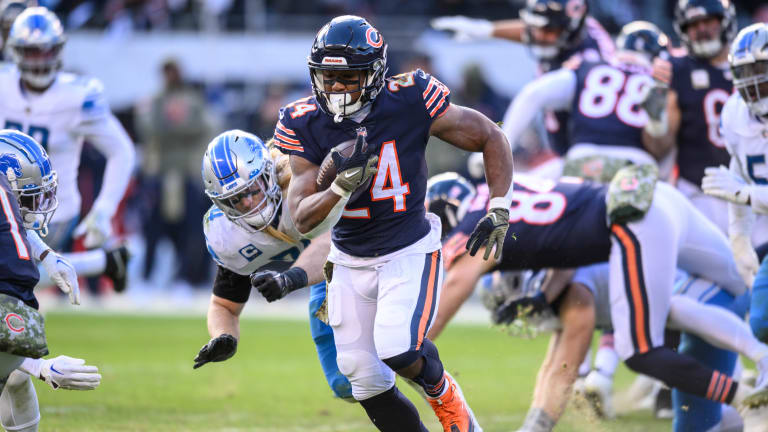 Khalil Herbert to Return to Bears Practice This Week
After missing four games due to injury, Bears' RB Khalil Herbert is set to return to practice this week.
Although most of the Chicago Bears' top playmakers on offense are injured, one such name is set to make his return to practice this week. According to the Bears, RB Khalil Herbert will return from the IR and practice. Herbert missed the last four games due to a hip injury. 
Herbert has been really good for the Bears this season, despite being considered the No. 2 running back on the depth chart. In just 10 games this season, Herbert has rushed for 643 yards and four touchdowns. Although his receiving numbers are nothing in comparison to David Montgomery's, Herbert and Montgomery are neck and neck in total yards rushing. In fact, through 13 games, Montgomery has 694 rushing yards. 
Herbert's return to the backfield should only benefit the running game. Although Justin Fields has already surpassed 1,000 yards rushing, the Bears could have three players sniffing the 1,000-yard threshold before season's end. There is no guarantee all three reach the mark, but the possibility alone is worthy of keeping up with as a fan. 
During Herbert's absence, the run game has actually seen a noticeable drop in rushing yards. Before's Herbert's four-game absence, the offense surpassed 200 yards rushing in six games this season. Since then, they have surpassed 100 yards in all four games, but failed to pass the 200-yard total. With Herbert's return, and a lack of healthy weapons on offense, the rushing totals should take a noticeable jump once again. 
Assuming practice goes well this week, Herbert should suit up and play in Saturday's game against the Buffalo Bills.