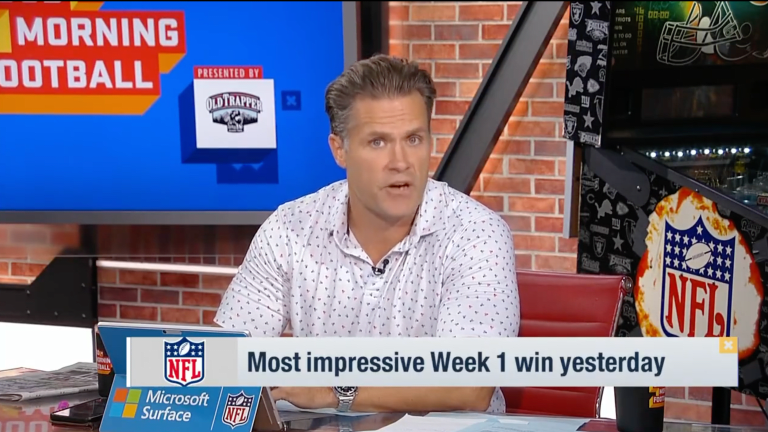 Kyle Brandt: Bears' Win Most Impressive From Week 1
With all the games played so far in Week 1, Good Morning Football's Kyle Brandt anoints the Bears' win as the most impressive from the NFL's opening weekend.
The NFL's opening weekend featured a number of exciting games. Fans saw a tie between the Houston Texans and Indianapolis Colts, a couple of dominating wins from the Minnesota Vikings and Kansas City Chiefs, and many exciting finishes. However, perhaps the most exciting game and upset of the weekend was the Chicago Bears defeating the San Francisco 49ers. In fact, it was so impressive that Kyle Brandt on Good Morning Football tabbed the game as his most impressive win from Week 1. 
Sure, Trey Lance might not have played a great game, but the weather impacted both teams. At the end of the day, the Bears made more plays to win the game than a talented 49ers team did. The Bears had two key takeaways in the game thanks to Jaylon Johnson and Eddie Jackson. They came ready to play and delivered a major win over a talented NFC West opponent. 
As Brandt says in the above clip, the weather favored how the 49ers like to play. They're a run-heavy team that always plays quality defense. The defense was great in the first half, but the Bears adjusted and made the right calls down the stretch to right the ship and secure the victory. In addition, the Bears received great quarterback play from Justin Fields. The numbers weren't great, but the playmaking needed to win was present. His play coupled with timely takeaways and relentless defense supported the team win. 
In a lot of ways, the 49ers were beat in an environment that usually favors their style. The Bears stepped up and took care of business. In fact, they were so good that Kyle Brandt emphatically tabbed them as the most impressive win in Week 1. Bears fans might say it's not a surprise, but the way they stepped up as a unit and defeated a more talented opponent certainly warrants the "impressive win" tag.