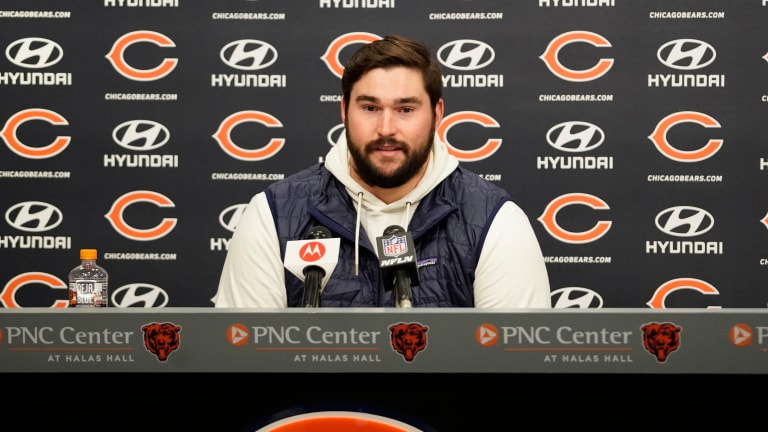 Lucas Patrick Signing Quickly Becoming Regretful Decision for the Bears
The veteran has been unable to bring any edge or stability to a Bears' offensive line that has struggled so far this season.
When the Chicago Bears signed Lucas Patrick in March, no one was more excited than new offensive coordinator Luke Getsy. The two spent many years together with the Green Bay Packers and were considered integral parts of the winning seasons they accumulated. So when the Bears were in need of a new center this offseason, Getsy knew who to call.
Bringing Patrick into the fold was a move to add veteran leadership on a young and inexperienced offensive line. He was expected to be a player Justin Fields and the offense could depend on, but he's been far from it so far.
Despite all the coach talk about his leadership in the locker room, Patrick has been unable to bring any edge or stability to a Bears' offensive line that has struggled so far this season.
Lucas Patrick's Underwhelming Bears Tenure To Date
After injuring his thumb in the preseason and missing vital days of practice, Lucas Patrick was given a relatively long leash for his mistakes when rotating in with Teven Jenkins at guard in Week 1. After all, he was playing a position he wasn't even signed to play, and he was doing it with a club on his right hand.
But as the season progressed and Jenkins continued to outperform Patrick, it became more and more obvious that there was a problem.
In Week 4 against the New York Giants, Dexter Lawrence absolutely manhandled Patrick all game. The Chicago Bears' veteran was consistently driven into the backfield against much stronger competition.
Patrick's play strength and base continued to look choppy week after week, and a change was needed up front. So after a long 11-day break, the Bears finally decided to move Patrick back to center to see if it would revive his former level of play. It didn't.
Patrick suffered an injury early against the Patriots and Sam Mustipher took over at center. The Bears proceeded to dominate New England with 243 rushing yards and finish the game on a 23-0 run. The offensive line finally looked like a cohesive unit, and the Bears' biggest offseason addition was nowhere to be seen.
Head coach Matt Eberflus said Patrick will likely land on injured reserve due to a toe injury and be out for some time, but I don't see too many fans or players too worried about replacing him. Patrick has posted a horrendous 55.6 PFF grade on the season and failed to meet any of the team's expectations as a veteran leader on the offensive line. Alas, it's hard to see a reality in which he returns as a Bears' starter next season.
In Week 8 against the Dallas Cowboys, the Chicago Bears will roll with Michael Schofield at left guard and Sam Mustipher at center, the very combination that led to so much success on Monday night. With Lucas Patrick gone and after such a shaky start to the season, maybe the Bears have finally found the right combination for success up front.