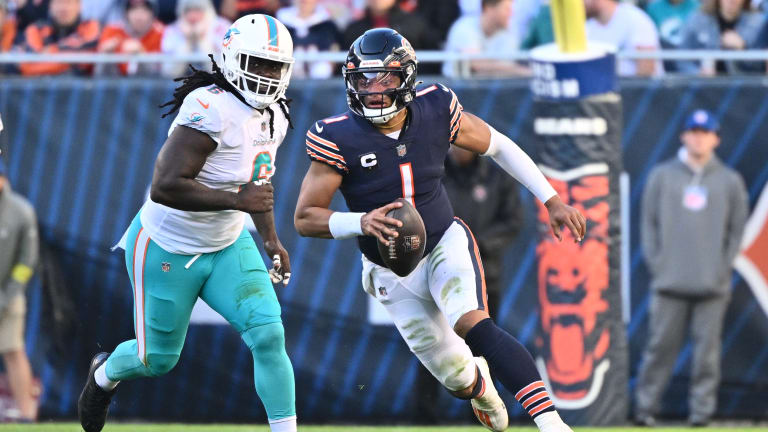 Mike Martz Flip Flops on Justin Fields: 'He's Special in Every Way'
The former Bears' offensive coordinator has changed his tune on Justin Fields drastically since September.
Since his departure from the Chicago Bears, former offensive coordinator Mike Martz has been a harsh critic of the organization. Back in September, Martz had a pessimistic view of Justin Fields, specifically regarding his pocket-passing ability.
"From what I've seen, I don't know that he can do it. I just don't think he can," Martz said. "You've got to be an established passer before you start thinking about running and doing all that other stuff."
Martz proceeded to compare the Bears' offense to that of the 2016 Lions, a team that went 0-16.
Now, we flash forward a few weeks, during which time Fields stacked some encouraging performances.
During a guest appearance on 670 The Score's Parkins & Spiegel show, Martz did a complete 180 on Fields and the Bears' offense.
"He's just so impressive. He's just special in every way," said Martz.
He followed that sentiment with praise for the Bears coaching staff.
"This staff, I can't say enough about what they've done with him. Let's take what we know he can really do well, let's emphasize it, and let's bring along the stuff he's not doing very well – we'll work on that on the side. And in the end, it's really paid off because he's growing with every week, leaps and bounds."
So, what changed?
Justin Fields left the football world speechless following his Week 9 showing against the Miami Dolphins. The Ohio State product set an NFL regular-season record for quarterbacks by rushing for 178 yards. He also tacked on 128 passing yards and three touchdowns without throwing an interception.
Fields' growth over the past five weeks is catching eyes. And it's been propelled by the coaching staff's offensive adjustments that have allowed Fields to be more versatile, especially with his legs. At the same time, Fields' QB rating has exceeded 105 three times in that span.
Even the harshest critic of the Chicago Bears might call it "impressive" or "special."