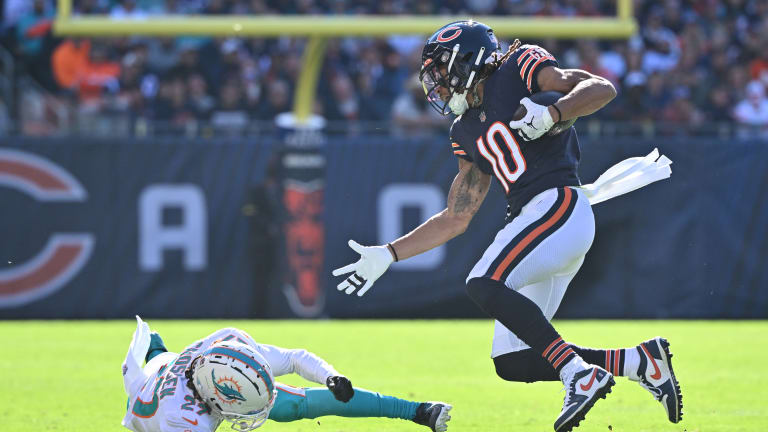 NFL Admits The Bears Were Wronged By Penalties Against Dolphins
It's becoming too common but the NFL admitted the referees made a mistake.
Without a special teams mishap turned into enemy points and two bad calls by the referees, the Chicago Bears would have beaten the Miami Dolphins last week. Justin Fields had an incredible performance for the history books and the referees affected the game in ways that can only be described as terrible. But now the NFL has admitted there were errors.
The Refs Screwed The Chicago Bears
The two missed calls from the Week 9 matchup are the defensive pass interference called on Eddie Jackson and the no-call on the deep pass to Chase Claypool at the end of the game.
The pass interference called on Jackson gave Miami great field position and it was completely unwarranted.
But the worst of the two calls is by far the missed defensive pass interference on Miami. The Dolphins' defenders were nearly carrying Chase Claypool and did not allow him to play the ball.
Whether or not the Chicago Bears would have won the game is irrelevant at this point because we don't know if they would have scored on that drive. Their offense was clicking and Justin Fields was having an incredible day, but there are no guarantees, especially in the NFL.
But the Bears inquired about the calls and according to Alex Shapiro of NBC Sports Chicago, they got an answer. The NFL admitted the referees got both of these calls wrong. They ultimately altered the outcome of this game and potentially cost the Bears a victory. 
This kind of mistake is becoming far too common. There have been huge plays, for example, the New Orleans Saints being screwed out of a Super Bowl appearance, and it seems like the Chicago Bears keep getting the short end of the stick lately.