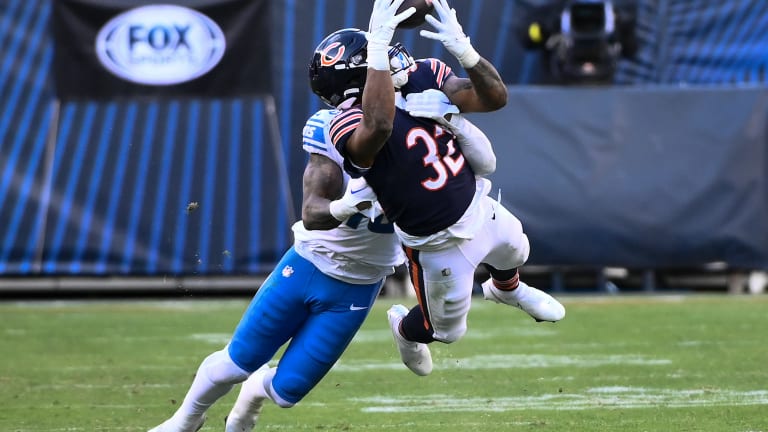 NFL Week 11 Best Bets: Props and Picks
Get ready for a full day of football with a slew of betting picks for Week 11.
The NFL season is flying along. Although it feels like it just began, we are already into Week 11. You don't have much time to waste with fantasy lineups to set and bets to place. Let's get right into my favorite bets to help you stash some coins away. Thanksgiving dinner isn't going to pay for itself.
Amon-Ra St. Brown Under 79.5 Receiving Yards (-114 BetRivers)
No one can deny Amon-Ra's ability or work ethic. However, I do have doubts about his uphill matchup for this week. The New York Giants allow the seventh-fewest receiving yards per game to opposing wide receivers.
Eighty yards is a lot to ask from any receiver in a single game. Amon-Ra is coming off a 10-catch, 119-yard game against the Chicago Bears. However, it was only the second time he's gone over 73 receiving yards all season and the first time since Week 2. Unlike last week's Bears and Lions game, I don't expect the Giants and Lions to get into a shootout.
Melvin Gordon Over 11.5 Receiving Yards (-115 BetMGM)
In six of the seven games that Gordon has played more than 20 percent of the Broncos' offensive snaps, he's gone over this number in receiving yards. Additionally, he's averaged 28.7 receiving yards over the last three games and has gone over this line in each contest.
The Broncos will be without two top wide receivers, Jerry Jeudy and KJ Hamler. I wouldn't be surprised to see Russell Wilson lean a little heavier on Gordon in the passing game.
Justin Fields Over 1.5 Passing Touchdowns (+205 BetRivers)
While sports analysts and former NFL players like LeSean McCoy continue to dump on Fields and his skills as a passer, it continues to open the door for sharper bettors that are following what's actually happening.
Fields has thrown at least two touchdown passes in each of his last three games. Two to one odds for a prop bet that's hit each of the last three weeks? Sign me up. The Falcons have allowed the 11th-most passing touchdowns per game this year.
Justin Fields Over 68.5 Rushing Yards (-115 BetMGM)
This is more of a heat check at this point. Fields has rushed for at least 82 yards in four of the last five games. He nearly broke his own single-game rushing record for a quarterback last week, following up a 178-yard record-setting day with 147 yards against the Detroit Lions.
It's difficult to predict some of the unscripted runs that Fields pulls off. However, he's so explosive, breaks would-be sack tackles, and has complete confidence in his legs when he needs to make a play. Therefore, I'm returning to the well and trusting him to continue making explosive plays.
David Montgomery Over 11.5 Receiving Yards (-110 FanDuel)
Montgomery could be in store for heavy usage today against the Atlanta Falcons. Earlier this week, the Bears placed his running mate Khalil Herbert on injured reserve with a hip injury. Herbert might be the more explosive back, but Montgomery is a hard runner and better in the receiving game. When Montgomery plays at least 70 percent of the Bears' offensive snaps, he's four for five in going over this line. (Play to 12.5)
Cole Kmet Over 28.5 Receiving Yards (-112 BetRivers)
Kmet is proving a lot of doubters wrong. Over the last few weeks, his connection with Justin Fields has blossomed. He's gone over this number in three of the previous four games and has caught five touchdowns in the last three games. The Falcons allow the fifth-most receiving yards to opposing tight ends. The Notre Dame product might be in store for another productive day. (Play to 29.5)
Marcus Mariota Over 0.5 Interceptions (+120 BetRivers)
Did you see Marcus Mariota's performance on Thursday Night Football a week ago? There was one play where he spun all the way around on his way to the ground and chucked the ball downfield without looking or knowing where he was throwing it.
The Bears' secondary has struggled at times this season. Their defensive front hasn't been able to generate any pass rush, which always makes life difficult for the secondary. They haven't had an interception in the last two games.
However, Jack Sanborn had an interception wiped off the board because of a phantom penalty call on Jaylon Johnson in Week 10. Johnson had a rough day overall because he played through an oblique injury. I'd expect Chicago's defense to come out fired up and look for the ball against a quarterback who seems willing to give it up.
Kyle Pitts Over 36.5 Receiving Yards (-110 FanDuel)
Pitts has only gone over this number twice all season. It's sad, honestly, because he's open a lot, and Mariota can't connect with him due to inaccuracy. There's no guarantee that Mariota will correct things this week, but Pitts has seven or more targets in three straight games, and most of the projection systems show him going over this number. (Play to 36.5)
Bears/Falcons Over 48.5
Shootouts and the Chicago Bears go hand in hand. Each of their last three games has ended with scores in the 60s or higher. Now they travel to Atlanta, where Justin Fields can use his speed and quickness inside a dome on artificial turf.
A big part of the high point totals in Bears games is their defense can't stop a nosebleed right now. Surprisingly, even with Mariota at quarterback, the Falcons score the 12th-most points per game and average 26.2 points at home. I'd play this number to 49.
Additional Bets
Bears +3/ML
Cowboys -1.5
Texans +3
Colts +6.5
If you're looking for a good spot to place a wager, check out BetRivers.com. Just enter the promo code "OnTap" for a deposit match of up to $250! Best of luck this week. Let's cash some tickets.