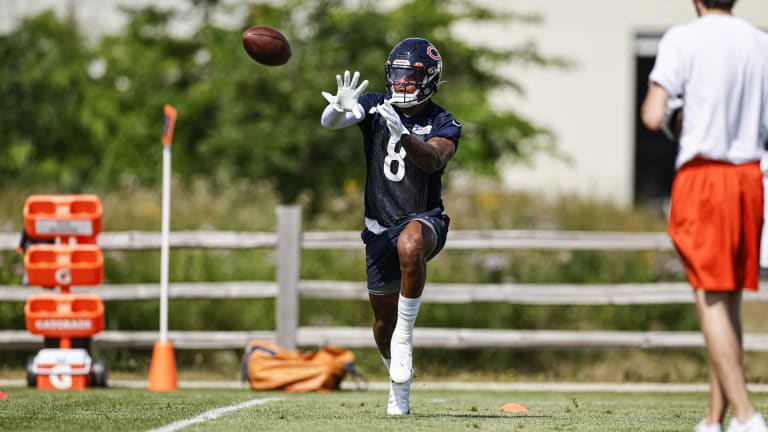 N'Keal Harry Returns to Bears from IR
OG Cody Whitehair was placed on the IR and the Bears activated N'Keal Harry off the IR.
Although the Chicago Bears are 2-2, the offense has been a major area of concern. However, the passing game is the real issue when looking at the root of the problem. On Wednesday, the Bears are hopefully receiving some help in the passing game. Although guard Cody Whitehair is heading to the IR, N'Keal Harry has been activated by the team. 
Harry's return certainly does not guarantee the Bears' passing game will magically perform better in Week 5. However, it does create optimism that the receiving corps is improving with Harry's presence. No, the former first-round pick hasn't lived up to his draft position, but a change of scenery ideally elevates the former Patriot's game in 2022.
Over the course of his career, Harry has 598 total receiving yards on 57 catches over three seasons in New England. In addition, his four touchdowns across two seasons left much to be desired. In fact, Harry hasn't seen the end zone in a real game since 2020.
However, at a time where Justin Fields can use all the help he can get to further his development, Harry's return is a welcomed sight. Perhaps the Arizona State product can immediately work his way into the offense and make a meaningful impact on the team. 
That said, Whitehair's presence will be missed. The offensive line struggled after his early exit on Sunday and didn't give Fields much time to throw. Harry only becomes a weapon for Fields if he has time to throw him the ball. 
What's On Tap for the Bears?
 The Bears venture to Minneapolis to play the Minnesota Vikings for the first time in 2022. Sunday's kickoff is scheduled for noon CDT from U.S. Bank Stadium.