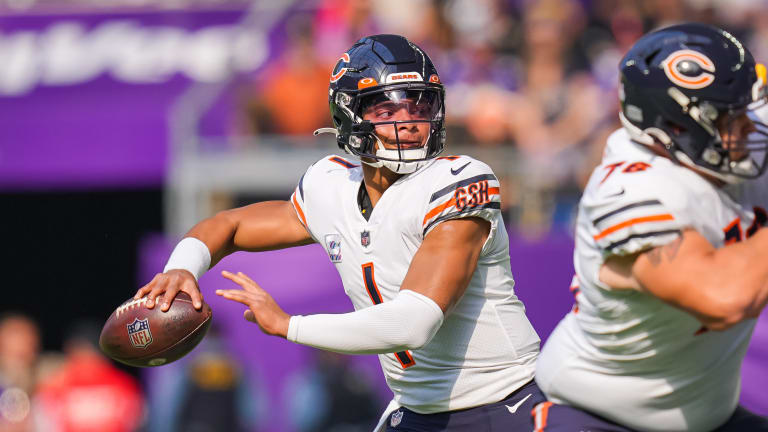 Bears' Justin Fields Snubbed From Pro Bowl Roster
The Bears had zero players selected to the Pro Bowl.
It's not entirely surprising that the Chicago Bears didn't have a single Pro Bowl selection; they're one of the worst teams in the NFL this season. But it was a bit of a shock that Justin Fields didn't get the honor.
After the way he's played this season, breaking records and single-handedly carrying the Bears' offense, many people thought he deserved it.
Pro Bowl Roster Evaluation
Here's a complete look at the full NFC and AFC Pro Bowl rosters. The list is pretty solid, but there are a few snubs that do not make sense, like Christian McCaffrey for example. How did they not select the running back leading the NFC in all-purpose yards? Bit of a head-scratcher, isn't it?
One player worth mentioning is former Chicago Bears linebacker Roquan Smith, who finally got some respect.
Smith was voted to the Pro Bowl as a member of the Baltimore Ravens! Through six games so far in his tenure with Baltimore, he has one interception, two sacks, and 28 solo tackles.
Most Bears fans are likely howling with joy that Roquan Smith finally made it to the Pro Bowl, even if it's after his time in Chicago came to an end. At least Bears fans can live vicariously, in a way, through him.
Nevertheless, Pro Bowl honors are meant for truly unique and special players. The Chicago Bears just don't have that right now, except for Justin Fields.
But it does seem like a bit of a slight that Kirk Cousins made it in over Fields. Regardless of the team's record, the Vikings quarterback has an exorbitant amount of talent surrounding him, making his job much easier.
Justin Fields is simply doing more with less while the Bears are losing. Whatever.... dumb Pro Bowl voters.