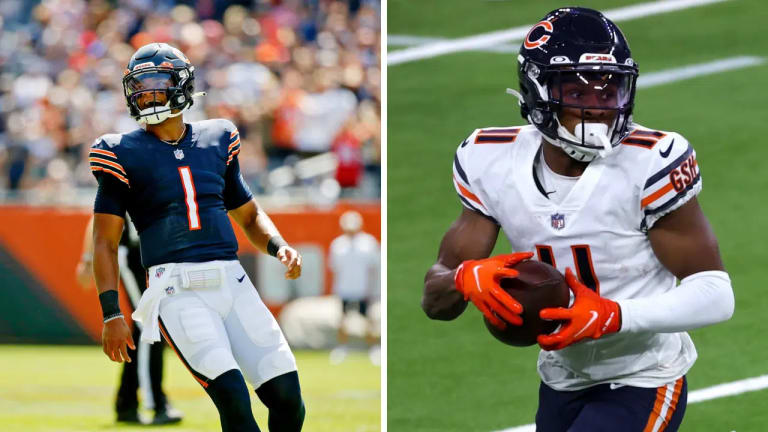 Realistic Guide to the 2022 Chicago Bears Season
The Bears finished the NFL Preseason with a perfect 3-0 record. Now, it's time to get real about the team as Week 1 approaches.
The 2022 NFL season is right around the corner. That said, what should the Chicago Bears' fan base really expect from this team? It is time to take a realistic look at what everyone should be expecting from different facets of the team. No player, coach, or management member is off-limits anymore. This team needs a major change.
Offense
The continued growth will be something to watch on the offensive side of the ball. Much of this will be on Justin Fields and Darnell Mooney. They have built a solid connection over the last year, but can Mooney take the next step to become a true No. 1 receiver?
As for Fields, it will be about growing in another new offense that looks to be playing to his strengths more. But, the one thing that he needs to be particularly careful of is running and sliding on plays. He continues to have a lot of close calls, which could open the door for a serious injury.
The Offensive Line
In addition, injuries could be an issue for the offensive line. The Bears' organization did very little to protect their "franchise QB" this offseason. Ryan Poles and co. acquired a few offensive linemen in the later part of the draft, in addition to veterans Michael Schofield and Riley Reiff.
However, significant money or draft capital was not utilized to upgrade the offensive line. So far this preseason, the unit is not looking much better than it did in 2021. So, will any players step up and show they are truly ready to take on a big role?
Receiving Depth?
The next question mark is every wide receiver not named Darnell Mooney. Yes, the Bears drafted Velus Jones Jr. this year, but his age scares some observers. He could be a nice speed option for Fields, however. Outside of that, Chicago has a plethora of players on "prove-it" deals that will need to do just that.
Running Backs
The last area to examine is the running back position. David Montgomery is in the final year of his contract. Will he show enough to get a new deal or will the Bears move on from him after the season? Over the last three years, he has proven he is a well-rounded back and seems to improve each year. Last season, it was additional speed that he seemed to work on. It is a tough call, however, because the running back position seems to be the most replaceable every few years.
The offense was historically bad in 2021, so there is no way it could be just as bad in 2022. The plan for this season is to improve every step of the way. It will be a bit strange to see that coming from a defensive-minded head coach, but in the same breath, it should allow coordinators to do the jobs they were hired for.
Defense
This offseason, it was evident the Bears were trying to start fresh defensively as they moved on from some past centerpieces such as Akiem Hicks and Khalil Mack. The notable additions to help build the defense back up include draft picks Kyler Gordon and Jaquan Brisker.
The Rookies
The first player to discuss is Kyler Gordon, who was an early pick at the cornerback position. Let's be frank, he could struggle out of the gate in 2022. It's very common for players in the secondary to start off slow. The goal for him, given that he will be the No. 2 cornerback next to Jaylon Johnson, is to continue to grow throughout the season and get a little bit better every week.
Next up is Jaquan Brisker, who already is looking to make an early mark this season. He is showing off how he is a well-rounded safety that can fit into any role on the Bears' new defense. Brisker will be able to make an instant impact playing closer to the line this season while Eddie Jackson assumes a deeper role in the defense. He is nursing an injury but is expected to play Week 1.
Roquan Smith and Others
The other notes for the defense involve changes for Roquan Smith going into his last contracted year. He will have to step up his game even further due to the inexperience of the unit. As one of the last remaining veterans on Chicago's defense, he can really show his value this season. Flashes of excellence in the new scheme will help him command more money next offseason, which he is looking for given his previous holdout.
Another name that will be fun to watch this season will be Trevis Gipson. Season by season, Gipson seems to make strides in his development. Given the Bears' roster shakeup entering the season, the job is his for the taking.
In the end, this defense will have some major struggles throughout 2022. But Eberflus should have his group playing hard for all 17 games and he will be looking to find some new stars for the future.
Management/Coaching
It's been a crazy offseason in Chicago after the organization cleaned house following a disastrous 2021 campaign. Less than two weeks after those moves, the team found its new GM in former Bear Ryan Poles. Following that move, the focus shifted to filling out the coaching staff, which didn't take Poles long to do.
He started with Matt Eberflus, the former Indianapolis Colts' defensive coordinator. Following that, Poles and Eberflus worked on the rest of the staff. The first one is Luke Getsy, who previously served as the Packers' passing game coordinator. He makes for an interesting hire and one to keep an eye on given the Bears' underwhelming offensive outlook. The next hire was defensive coordinator Alan Williams, who brings 30 years of football experience to Chicago and will be able to keep things in line for Eberflus on the defensive side of the house.
The front office and coaching staff will have plenty of early challenges in their tenure. But as long as they can adjust, unlike the last few GM/head coach combinations, things will definitely look better in the next few years.
Poles didn't waste much time in making moves to try to help the team clear cap space and gain some draft picks. However, some moves, or lack of moves, have some already wondering if his stay in Chicago could be short.
One such questionable decision was not signing Roquan Smith to a new deal or trading him. Others are failing to sufficiently bolster the offensive line and seemingly lacking a plan for David Montgomery. At this time, several of those storylines are of the wait-and-see variety. In addition, it's probably too early to judge what Poles is doing.
Heading into 2023, Ryan Poles will have a lot of money to play with to make the Chicago Bears better. However, some fans don't want to wait a year to see more change. In reality, that is what this team should do. The roster is not good enough to win a Super Bowl or even have a winning record. Building for the future and growing the team for the next few years with the talent they have is exactly the right move.
Everyone should be ready to go on another rollercoaster ride this season, and it won't be pretty at times. But focusing on the growth from week to week should provide some solace in what the future will bring.