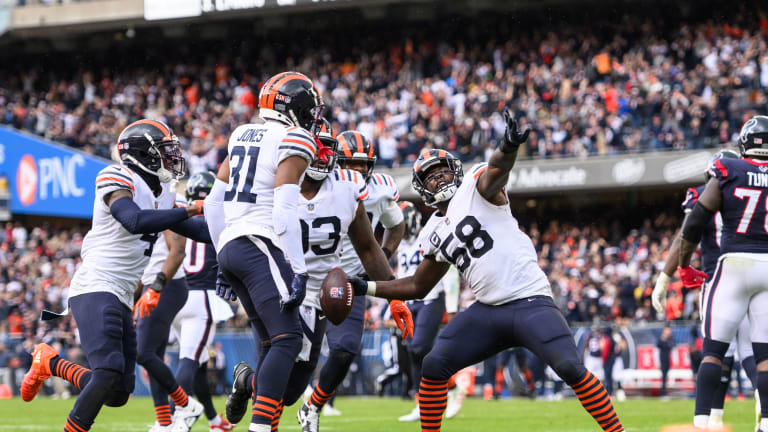 Roquan Smith Leads Bears In Tackles, Begging The Question: What Hip Injury?
Roquan Smith was a force to be reckoned with in the Bears' win over Houston.
Lovie Smith and the Houston Texans came to town on Sunday afternoon. But throughout a wildly mediocre game from both teams, the Chicago Bears were able to shut down their opponents thanks to solid defense. Roquan Smith led the team in total tackles and had the momentum-swinging interception in the fourth quarter. So is he really dealing with an injury?
Roquan Smith Against Houston
Smith led the Bears in total tackles with 16, six of those were solo tackles. The next closest Chicago defender was Eddie Jackson with eight tackles.
But this game will be remembered as the day Roquan Smith saved the day. He picked off Davis Mills in a crucial moment. This let the Bears dictate the rest of the game and score the final points of the game. 
Roquan Smith Injury
All week long leading up to the game with Houston, Roquan Smith didn't practice. He was out due to an apparent hip injury. The Bears even brought help up from the practice squad with Smith's certain inability to start this game.
Then finally the Bears announced Smith would play shortly before the noon kickoff. He had a great day on defense, statistically speaking, and quite literally took the game into his own hands in the fourth quarter.
So why was he out of practice for so long? Is he actually dealing with a hip injury or is he taking a different approach to this season with his contract on the line?
Whatever the case is, it's odd when a player of his caliber misses an entire week of game preparation and comes out on fire. Roquan Smith can still be the player we all know he can be. He showed up, performed, and helped secure a much-needed victory. 
The Chicago Bears desperately need Smith to be that guy. Question is, how often will we have to wonder what's wrong with him? Is this going to become a weekly inquisition?