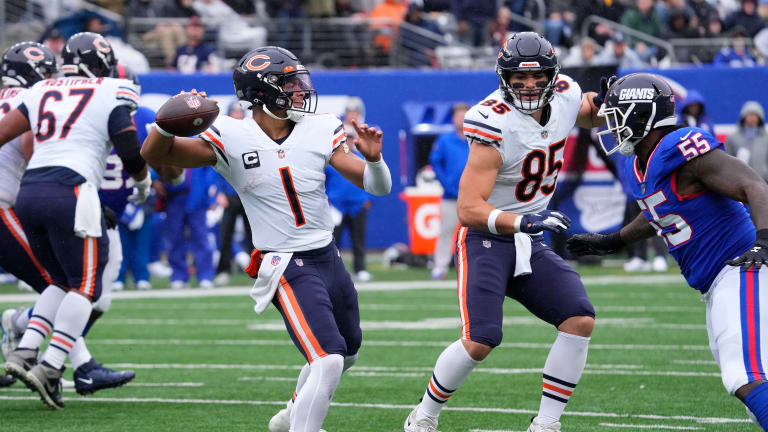 Ryan Clark: It's Impossible to Evaluate Justin Fields
ESPN NFL analyst Ryan Clark said it is impossible to evaluate Chicago Bears starting quarterback Justin Fields.
Is it almost impossible to evaluate Chicago Bears quarterback Justin Fields? Ryan Clark of ESPN thinks so. Well, is he wrong? That answer probably lies somewhere in the middle ground. When are the excuses enough? Or are they justified? 
Listen, it's no secret that Fields doesn't have good enough protection or receivers that can get open. Now, that's not to say that's 100% of the time. There are examples from yesterday's Bears loss to the New York Giants where Fields missed open receivers or received adequate protection. 
The stat provided above tells a story. Fields was under pressure more than half the time he dropped back against the Giants. It doesn't matter who the quarterback is, if that's the case, they will struggle to find a rhythm. He went 10-14 for 168 yards when the pocket was strong. 
Sure, some throws were missed when he had time. To build on that, yeah, he did get happy feet and try to get out of the pocket to make something out of what he believed was nothing. Can you blame him? Don't forget, he was under pressure more than HALF the time he dropped back. 
Ryan Clark isn't wrong. If you're a Bears fan, watching this offense at work can be incredibly frustrating. Sure, you will see some flashes of brilliance from Fields, then you will see him second guess himself. 
That's because the offensive play-calling has been terrible, the offensive line isn't consistent, and the receivers on the team aren't finding ways to get open enough. Sure, it feels like Fields gets praised for the good he does and gets a pass for the bad. But, with the teammates around him underperforming, don't you think it's a little impossible to evaluate him if the players around him aren't helping him succeed?