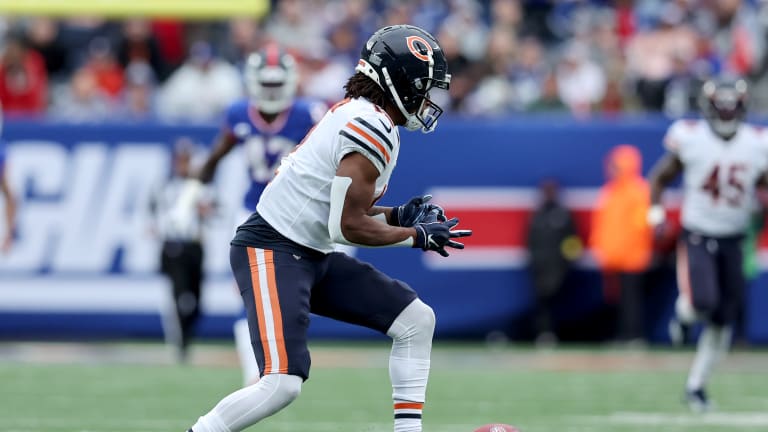 Velus Jones Jr.: Old and Broken or Ripe for Success?
A deep dive into a rough start for the Bears' rookie.
When the Chicago Bears selected Velus Jones Jr. with the No. 71 pick in the third round of the 2022 NFL Draft, many experts and fans quickly raised their eyebrows. After all, Jones Jr. was going to be 25 years old to begin his rookie year and hadn't even been a wide receiver for most of his career.
In Jones Jr.'s six years in college (four at USC, two at Tennessee) he only amassed 136 catches. For perspective, Jalen Tolbert, who was selected after Jones Jr. by the Dallas Cowboys, was able to tally more than that in his final two collegiate seasons alone.
The Gamble
So with such poor production, what caused the Bears to take such a reach on Jones Jr.? Short answer: his speed.
Jones Jr. ran a blistering 4.31 40-yard dash at the NFL Combine and had a successful Senior Bowl showing in the slot as well. His explosiveness, combined with his SEC Co-Special Teams Player of the Year prowess, made him extremely intriguing to a Bears team desperate for playmaking.
Betting on Jones Jr.'s raw athletic ability and ceiling at the wide receiver position was definitely a risk for first-year general manager Ryan Poles, especially with other talented receivers such as Tolbert, David Bell, and Romeo Doubs all coming off the board after the speedster.
Strengths and Weaknesses
Since joining the Chicago Bears this offseason, Velus Jones Jr. has done everything he can to show Poles his faith in him was not misplaced. In training camp, he displayed flashes of dominance in the slot and consistently created separation with his quick change-of-direction ability and strength.
However, the outside receiver responsibilities proved to be much harder for the seasoned rookie. He struggled to get off of press coverage and his route running was far from precise enough to give Justin Fields a proper window to throw into. Still, Jones Jr. was able to flash a few "wow" plays on the outside with his sheer athleticism, but it's hard to make a career out of that.
If Jones Jr. truly wants to become the explosive playmaker the Bears desperately need him to be, he needs to continue to develop as a route runner and as a true wide receiver rather than sticking in his gadget player mold.
Ceiling to Floor
Going into the preseason, the Chicago Bears gave Velus Jones Jr. return duties. He immediately showed his special teams value against the Seahawks, quickly bouncing back from a fumble and tacking up a blistering 48-yard return to set up a Bears touchdown.
Any worries about his returning ability were put on the back burner when Jones Jr. missed the Bears' first three games due to a hamstring issue.
Then, he finally made his long-awaited debut against the Giants in Week 4. Jones Jr., who was still working himself back into the lineup, didn't register a single catch as a receiver. But with the game on the line, he was thrown out there to give the Bears a crucial boost on punt return duties with just over two minutes left.
With Bears' executives and fans alike sitting on the edge of their seats, everyone awaited the magic that was promised upon drafting the playmaking rookie. The ball came in with plenty of room to run, and it seemed as if Chicago finally had a chance to win the game, but Jones Jr. had other plans. The rookie fumbled the ball and the Bears would go on to lose the game.
And in that moment, it was as if everyone's focus shifted from Jones Jr.'s ceiling to his floor. Was he an underrated athletic marvel underutilized in college? Or was he yet another example of a guy who can't put it all together regardless of how many physical gifts he has?
Jones Jr.s' floor is why he fell to the third round and why many experts had him going as far as the seventh round. His ceiling, however, is what keeps desperate-for-playmaking Bears' fans praying for a bounce-back week for the young rookie.
No one yet knows what the future holds for Velus Jones Jr., but it's far too early to give up on him yet.