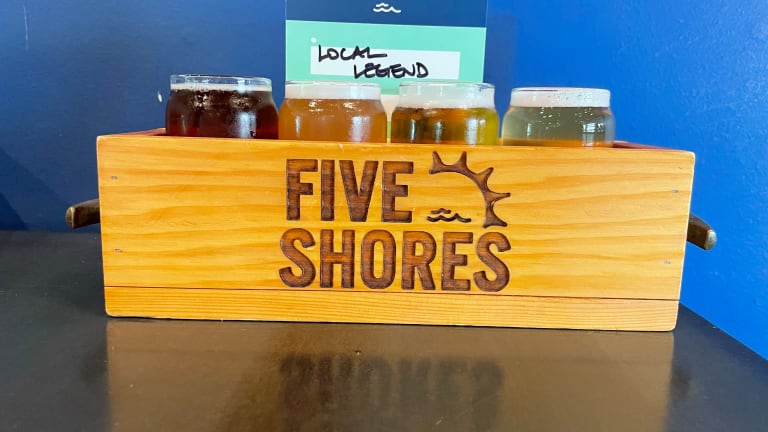 Brewery Review: Five Shores Brewing
Five Shores Brewing in Beulah, Michigan offers a solid selection of beer and food that will please any weekend traveler.
Attending a wedding up in Michigan over the weekend, my group decided to head up to Sleeping Bear Dunes to appreciate the foliage and kill some time. That's where I came across Five Shores Brewing, which sits right in the heart of Beulah, Michigan across from Crystal Lake.
The building is new and cavernous like a maintenance garage with various shades of blue everywhere. They house their brewing equipment there, which adds to the ambiance.
Five Shores' Beers
Five Shores had a wide variety of options on tap. I went with a flight to get a taste of everything. The selections I made were the Local Legend (Lager), Spare Key (Pilsner), Adult Swim (Fruit Beer), and ShoresFest (Marzen).
The Local Legend is a 4.7% ABV offering. The lager was on the malty side and had a crisp hit of sweetness with a smooth finish. Spare Key was their Pilsner, which had hints of cucumber, mint, and lemon with a very smooth finish.
ShoresFest is Five Shores' play on Oktoberfest. The 5.8% ABV brew poured an amber-brown color. While it did taste like fall, some key elements of an Oktoberfest were replaced with fruitier tones. Overall, it was delicious.
Adult Swim was the best of the bunch. At 5.6% ABV, it had all the flavoring of pink lemonade with a bit of hoppiness to it. The pilsner offering was based on the fusion of lemonade and raspberry, making it an excellent drink to enjoy by the lake.
Five Shores' Food
The food menu featured some solid sandwiches and appetizers.
We went with the Bavarian Pretzel and beer cheese, which did not disappoint. The homemade beer cheese was one of the best I have ever tasted. The pretzel was surprisingly large, making it well worth the cost.
We also ordered the Bavarian ham sandwich. The thick, juicy cuts of ham paired well with a fire dijon.
Overall, Five Shores Brewing is a great place to hang out and enjoy Northern Michigan.