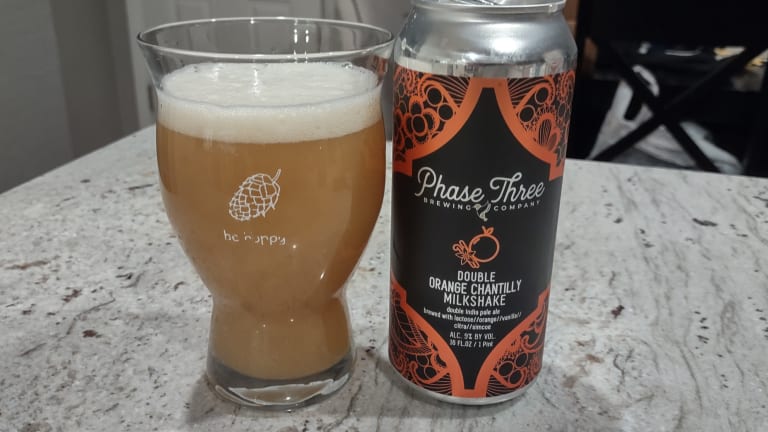 Beer Review: Phase Three - Double Orange Chantilly Milkshake
The vanilla was just too overpowering, making this beer a very rare miss for Phase Three.
Last night I wanted to try something a little bit different but hopefully strong and juicy. My beer guys at the local Binny's directed me to a fresh Phase Three brew called Double Orange Chantilly Milkshake. So my thought was it would be Phase Three's version of Hop Butcher's popular Blazed Orange — or more specifically the Double Blazed since this one is also a double.
I was looking forward to trying this one out. It's brewed with lactose, orange, vanilla, and then Citra and Simcoe hops. Usually, lactose just brings a sweetness to beers and isn't something to be afraid of, unless you're overly lactose intolerant of course.
Poured into a glass, Double Orange Chantilly Milkshake looked fabulous. My anticipation quickly turned to disappointment. To me, the vanilla was just overpowering. I hardly got any orange flavor and it tasted like a bitter vanilla-flavored beer. Not very pleasant.
This happens sometimes. They can't all be winners, and, in my opinion, this is a very rare miss for Phase Three. It's still drinkable. I'm not going to pour it down the drain or anything. Actually, I'm currently drinking my third from the pack. There's nothing wrong with a miss, and today I went back to Binny's to pick up a different brew from Phase Three.
Happy Drinking!