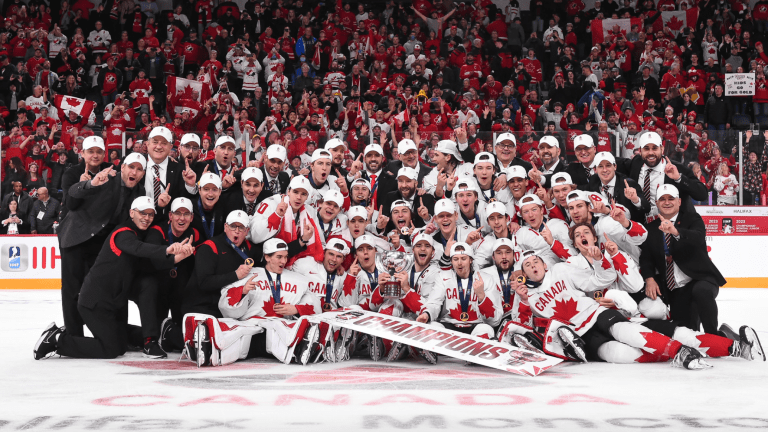 4 Blackhawks Prospects Win Gold With Canada at 2023 World Juniors
Defensemen Nolan Allan, Ethan Del Mastro, and Kevin Korchinski and forward Colton Dach claim gold.
Four Chicago Blackhawks prospects won a gold medal with Canada at the 2023 IIHF World Junior Championships.
Defensemen Nolan Allan (2021 first), Ethan Del Mastro ('20 fourth), and Kevin Korchinski ('22 first) helped Canada defeat Czechia 3-2 in overtime in the gold-medal game Thursday at Scotiabank Centre in Halifax. Canadian forward Colton Dach also claimed gold but did not play after suffering a shoulder injury on New Year's Eve.
Korchinski led the Chicago trio in scoring at the tournament with four points (one goal, three assists) and averaged 10 minutes of ice time. Del Mastro had three assists and 20 minutes. Allan had two points (one goal, one assist) with 16 minutes. Dach had two assists in four games.
Victor Stjernborg Falls in Bronze-Medal Game
Forward Victor Stjernborg, a Blackhawks' 2021 fourth-round draft pick, had one shot on goal in 18:16 of ice time in Sweden's 8-7 overtime loss to the United States in the bronze-medal game.
Sweden's team captain had a goal and an assist in seven games during the 2023 World Juniors.
2023 NHL Draft Watch
The Chicago Blackhawks are the worst team in the NHL, giving them a chance to select Canadian forward Connor Bedard. The projected generational talent and first-overall pick led the tournament in scoring (23 points), goals (nine), and assists (14) to be named tournament MVP.
Swedish forward Leo Carlsson, who is a top-five projected pick, had a goal and assist with four shots on goal against Team USA. He scored six points (three goals, three assists) in the tournament.