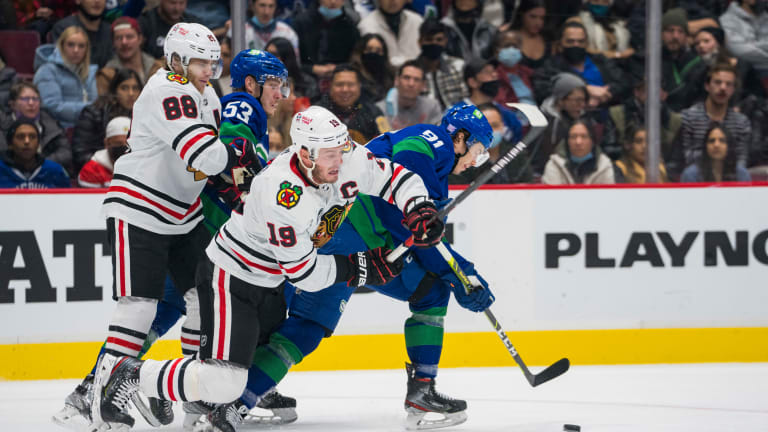 A Reunion Fit for National TV? Blackhawks Reunite Kane and Toews
With the Blackhawks set to host the Edmonton Oilers for the TNT national broadcast on Wednesday, Patrick Kane and Jonathan Toews have been reunited in practice.
Peanut butter and jelly. Spaghetti and meatballs. Pizza and beer. Some of the greatest combinations in human existence are typically food. However, one combination that has been synonymous with Chicago sports is that of Patrick Kane and Jonathan Toews. With the Chicago Blackhawks sputtering offensively, head coach Luke Richardson has decided to reunite the pair. This is the first time under his watch that 88 and 19 will skate on the same line, not just the power play. 
Skating Toews and Kane together this season feels like something that might work. Last season, Patrick Kane and Alex DeBrincat were by far and beyond the best offensive players on the team. With 92 and 78 points, respectively, they dwarfed Toews' 37 points from a year ago. However, early in the 2022-23 campaign, Toews leads the team in goals (8) and currently sits third on the roster in points with 13. 
Who knows, maybe the pair reuniting will lead to more offensive production for the team. The two connected on Patrick Kane's 4-on-4 goal against the Pittsburgh Penguins just over a week ago. Now, the pair will have a whole game together on the ice vs Edmonton rather than just on the power play. 
The Blackhawks are in need of a win after a Kirby Dach dagger on Black Friday and a throttling at the hands of the Winnipeg Jets on Sunday. The Hawks host the Oilers on Wednesday at the United Center for a rare 8:30 p.m. CST start.