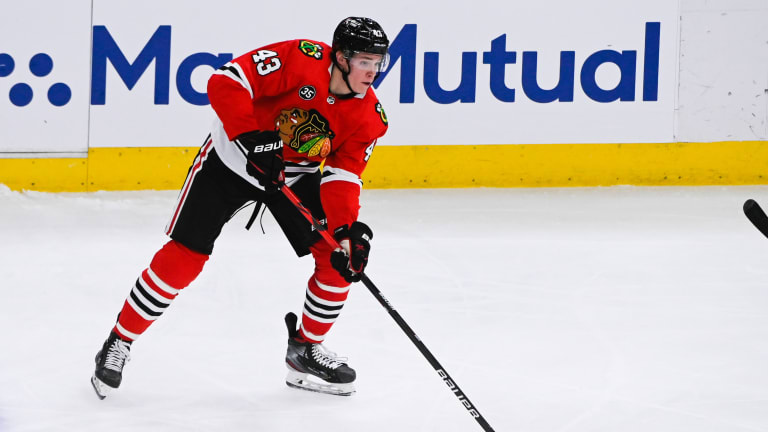 Alex Vlasic to Wear #72 for Blackhawks
The young defenseman from the Chicagoland area is changing his number so a teammate can have his desired number.
While the Chicago Blackhawks await the start of training camp, the news cycle is rather slow. However, one thing worth noting is a number change for one of the youngsters fans will likely see a lot of in 2022-23. Per NHLNewNumbers on Twitter, defenseman Alex Vlasic is changing his number from 43 to 72. Newly acquired Colin Blackwell will wear 43.
For a number of Blackhawks fans, seeing the No. 72 will certainly bring flashbacks of Artemi Panarin. However, it will now grace the back of the 6-foot-6 defenseman on Chicago's blue line. 
Last season, Vlasic suited up in 15 games for the Blackhawks at the end of the year. He tallied his first goal and first assist in his opening stint in the NHL. Worth noting, if his player number is worthy of an announcement, one has to think he's in line to be one of the first to receive a chance with the NHL club. 
With news that Jake McCabe will be on IR to start the season, the Blackhawks are already down one defenseman. Its uncertain whether Connor Murphy will return soon, but the team is down to Seth Jones, Riley Stillman, Caleb Jones, and Jack Johnson. Enter Vlasic with an opportunity to see time early in the season. Alec Regula also could factor into a lot of playing time. 
Also, good on Vlasic to give his number to the newly-acquired veteran. He certainly didn't have to, but there's a chance that Blackwell approached him and asked for the number. Now, Vlasic gets to make his mark with a new number while Blackwell dons his old one in Chicago.