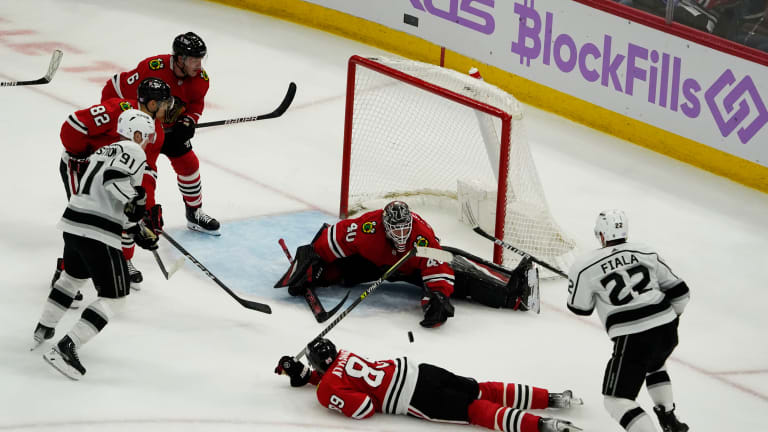 Blackhawks Goalie Arvid Soderblom Shines in First NHL Win
Injuries bumped Soderblom up the depth chart, and he made the most of the opportunity Thursday.
The Chicago Blackhawks are currently experiencing a goalie crunch. Petr Mrazek and Alex Stalock, the team's top two netminders to begin the 2022-23 campaign, are both injured. That leaves Arvid Soderblom, who had only three games of NHL experience entering this season, as their primary option at the moment.
But Soderblom owned the moment Thursday with a stellar showing to record his first NHL win. The 23-year-old stopped 32 of 33 shots to help the Blackhawks defeat the Los Angeles Kings in overtime. An active Kings' offense generated 28 scoring chances and 13 high-danger chances, but Soderblom had the answer all but one time.
Jonathan Toews earned First Star of the Game honors for his decisive goal in extra time, but Soderblom's consistency in the crease shouldn't be overlooked.
Head coach Luke Richardson certainly likes what he sees from the youngster.
"It's not just the first save...throwing himself to make it. It's how he controls his body after and gets right up and seals the post so there's nothing there," the first-year bench boss said. "He's strong and he's young, so he's just going to get better at his craft."
Richardson added that Arvid Soderblom will likely head back to the AHL for further development when the Blackhawks' other goalies get healthy. But for now, the Swedish netminder is trying to make the most of his opportunity.
"I'm trying my best to make it hard for them to not play me. I feel great in the net," Soderblom said of his performance, which snagged Second Star honors.
And he'll get an opportunity to build on it Saturday when the Chicago Blackhawks visit the Winnipeg Jets.
Petr Mrazek is nearing a return, but he won't be ready until next week at the earliest. Alex Stalock is still in concussion protocol after a nasty collision on Tuesday. Those circumstances open the door for Arvid Soderblom to continue building his confidence between the pipes at the NHL level, where he now has his first win under his belt.