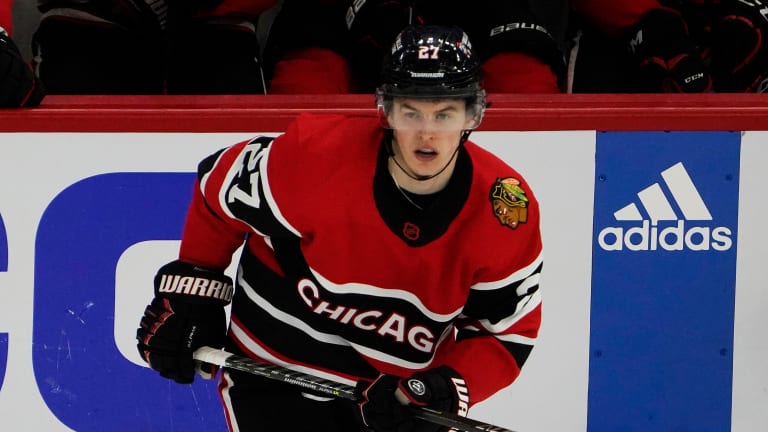 Blackhawks Assign Lukas Reichel to Rockford IceHogs
Lukas Reichel is heading back to Rockford.
The Chicago Blackhawks made a roster move on Friday afternoon. A rather surprising one at that. The team has announced that recently recalled top-prospect Lukas Reichel is heading back to the AHL with the Rockford IceHogs. 
Since being recalled, Reichel and the Blackhawks have won three-straight games. Despite missing Patrick Kane over those three contests, the Blackhawks were able to dispose of the Coyotes, and the defending Stanley Cup Champion Colorado Avalance. A rather impressive feat for a team that has been near the bottom of the NHL standings all season.
The move comes as a bit of a surprise to most Blackhawks fans. Just days ago, head coach Luke Richardson had recently commented to the Chicago media that Reichel was going to get an extended look with the NHL club. 
"I think the idea of bringing him up now is probably he earned a spot," Richardson said. "It's not just a flash, coming up for a game or two."
The comments came after the Blackhawks' 4-3 overtime victory over the Calgary Flames on Sunday night in which Reichel scored his first career NHL goal. It appears however that Blackhawks GM Kyle Davidson had other plans for Reichel as he only appeared in one more game with the Hawks before being sent back to Rockford.
The move likely signifies the return of Patrick Kane to the lineup on Saturday night as the Blackhawks take on the Seattle Kraken.