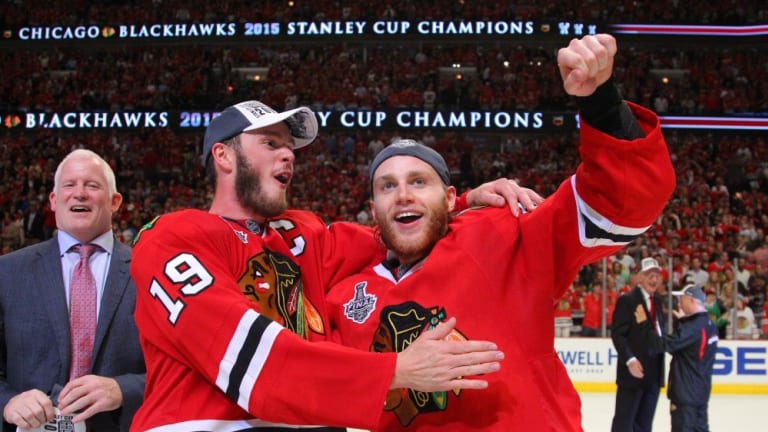 Blackhawks GM: Patrick Kane, Jonathan Toews Have Not Requested Trades
The forwards each have one year remaining on their eight-year contracts that include a full no-movement clause.
Patrick Kane and Jonathan Toews have not requested trades, Chicago Blackhawks' general manager Kyle Davidson told The Chicago Sun-Times.
The forwards are set to enter the final year of their matching eight-year, $84 million contracts that they signed on July 9, 2014. Both contracts contain full no-movement clauses, meaning the player or team will have to agree to waive it to make a trade.
Kane, selected first overall by the Blackhawks in the 2007 NHL Draft, has 1,180 points (430 goals, 750 assists) in 1,107 regular-season games and 132 points (52 goals, 80 assists) in 136 playoff games.
Toews, the No. 3 pick by Chicago in the 2006 NHL Draft, has 852 points (357 goals, 495 assists) in 1,014 regular-season games and 119 points (45 goals, 74 assists) in 137 playoff games. He has served as Blackhawks' captain since 2008.
Each won the Stanley Cup with the Blackhawks in 2010, 2013, and 2015. They have each played their entire NHL career with Chicago.
Trade speculation ran rampant after Toews told The Athletic that the Blackhawks' rebuild "doesn't sound appealing." His comments came in the wake of the Blackhawks trading forwards Alex DeBrincat and Kirby Dach on the first day of the 2022 NHL Draft.
Davidson and his hockey operations department are focused on rebuilding the franchise with young talent. Whether Patrick Kane and/or Jonathan Toews will be traded to add more young talent or re-signed to provide veteran leadership to the new group remains to be seen.
What's On Tap Next For The Blackhawks?
The Chicago Blackhawks will host the Minnesota Wild in the Tom Kurvers Prospect Showcase from Sept. 14 to 18 at Fifth Third Arena. The two teams will play two games (Sept. 14 and 18) and three practices the other days. All five days are open to the public free of cost.