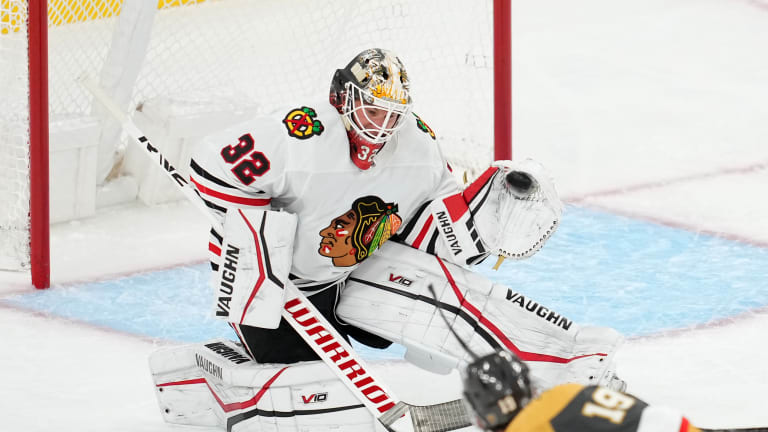 Blackhawks Waste Alex Stalock's Stellar Night in 1-0 Loss to Vegas
Chicago couldn't find the back of the net to support their goalie's strong performance.
The Chicago Blackhawks suffered a tough 1-0 loss in their second game of the season. A lack of offense wasted an excellent performance from goalie Alex Stalock on Thursday against the Vegas Golden Knights.
It was the second game of a back-to-back for the Hawks, but they didn't look fatigued early. A fairly even first period saw Chicago hold an 11-9 shot advantage, but neither team found the back of the net.
In the middle frame, Vegas scored the only goal of the contest, which resulted from a Blackhawks' gamble.
Following their second power play opportunity, the Hawks continued to press in the Knights' zone. It led to a 2-on-1 rush the other way that Vegas forward Paul Cotter capitalized on.
Beyond the goal, the Knights dominated the Blackhawks with an 18-8 shot advantage in the second period.
Chicago's offense continued to struggle in the final 20 minutes. Vegas outshot the Blackhawks 10-7 and the visitors only generated one high-danger chance.
Despite pulling Stalock in the final minutes, the Blackhawks could not light the lamp and fell 1-0 to the Golden Knights.
Takeaways
Alex Stalock was outstanding despite picking up the loss. He stopped 36 of 37 shots in his Blackhawks debut. The 35-year-old netminder deserved better.
The Blackhawks' penalty kill looked much better in their second game. After allowing four power-play goals to the Avalanche on opening night, Chicago went 3-for-3 on the penalty kill against Vegas.
The visitors weren't afraid to throw their bodies around. The Hawks outhit the Knights 41-20 with 11 players recording multiple hits.
Chicago's record dropped to 0-2-0 in the early stages of the season. It's a good time to bookmark tankathon.com/nhl.
What's On Tap Next?
The Chicago Blackhawks close out a three-game road trip Saturday when they visit the San Jose Sharks. Puck drop is at 9:00 PM CT and the game will air on NBC Sports Chicago.
Tune in to the Four Feathers Podcast for further Blackhawks commentary all season.