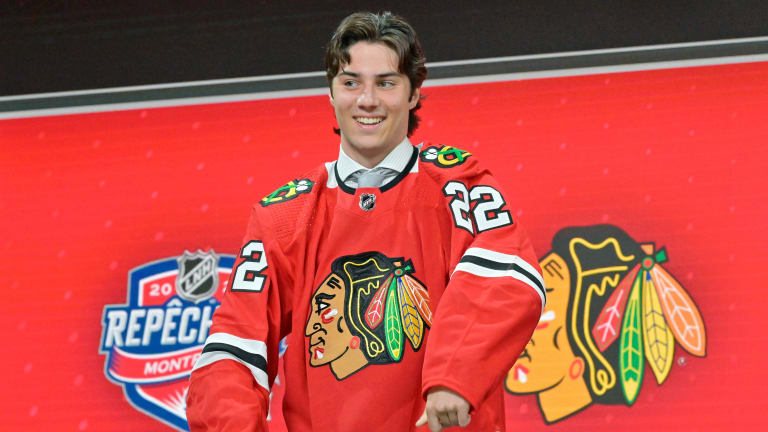 Multiple Blackhawks' Prospects to Play For Top NCAA Programs This Year
The Blackhawks have 12 prospects playing for schools listed in USA Hockey's preseason College Hockey Poll.
USA Today and USA Hockey Magazine released their preseason top 20 rankings for NCAA Division I ice hockey on Monday. According to USA Hockey's website, the weekly College Hockey Poll includes input from coaches and journalists representing each of the NCAA Division I ice hockey conferences, as well as composite votes from officers of the AHCA and USA Hockey.
With the Chicago Blackhawks organization evidently focused on rebuilding, perhaps the most intriguing part of the 2022-23 season will be keeping an eye on many of the top prospects in the system.
According to USA Hockey's preseason rankings, the Blackhawks will be well represented in college hockey with a dozen prospects suiting up for top-20 programs.
1. Denver - Aidan Thompson
Thompson had quite an impressive showing at Blackhawks development camp and nearly clawed his way onto Team USA's World Juniors roster a few weeks later. The 20-year-old forward tallied 82 points (24 goals, 58 assists) in 57 USHL games for the Lincoln Stars last season and will be a freshman for the Pioneers.
5. Minnesota-Duluth - Wyatt Kaiser & Dominic James
Kaiser returns for his junior year with the Bulldogs after recording 19 points (two goals, 17 assists) in 34 games as a sophomore.
James, a sixth-round pick in the 2022 NHL Draft, picked up 18 points (six goals, 12 assists) in 39 games as a freshman and displayed his tremendous skating ability for the U.S. at the 2022 World Junior Championship.
6. Michigan - Frank Nazar
Nazar will be a freshman for the Wolverines this fall, joining one of the best rosters in all of college hockey. The 2022 13th overall selection is a bit undersized (listed at 5-foot-10, 175 pounds) but has an undeniable offensive skillset and work ethic. Nazar recorded 71 points (35 goals, 36 assists) in 55 games for the U.S. National Development Team last year.
8. Notre Dame - Landon Slaggert & Ryder Rolston
Slaggert will be one of the key leaders in his third year for the Fighting Irish. The 2020 third-round pick (No. 79 overall) was an alternate captain for Notre Dame as a sophomore and amassed 26 points (12 goals, 14 assists) in 40 games. Slaggert also served as an alternate captain for the U.S. at the World Juniors this summer.
Rolston is a bit of a forgotten man in the Blackhawks system but possesses a heavy shot and average playmaking abilities. A 2020 fifth-round pick of the Colorado Avalanche, Rolston tallied 27 points (10 goals, 17 assists) in 38 games as a sophomore for Notre Dame and should receive top-six minutes as a junior.
13. St. Cloud State - Dominic Basse
Basse was a sixth-round selection of the Blackhawks back in 2019 and spent the past two seasons at Colorado College. The 6-foot-6, 200-pound netminder only has 10 wins in 41 collegiate games but will likely benefit from his decision to transfer.
14. Boston University - Drew Commesso & Ryan Greene
Commesso is back with the Terriers for his junior year and is expected to be a workhorse in net. The Hawks' 2020 second-round pick (No. 46 overall) went on a remarkable run to close out last season and picked up two victories (one via shutout) for the United States at the 2022 Olympic Winter Games.
Greene, the 57th overall pick in the 2022 NHL Draft, will be a freshman at BU after spending three years in the USHL with the Green Bay Gamblers. Greene matches good size (6-foot-1, 180 pounds) with a solid offensive skillset (51 points in 59 games last season) and will be an intriguing forward prospect to follow from afar.
15. Providence - Taige Harding
The Chicago Blackhawks made the surprising decision to draft Harding out of the AJHL with their third-round pick in 2021. Listed at 6-foot-7, 235-pounds, the 20-year-old mammoth defenseman played 15 games with Providence toward the end of last season. Can Harding skate well enough to be an NHLer one day? To be determined.
18. Ohio State - Jake Wise
Wise, a third-round pick way back in 2018, finally showed some flashes in his first year with the Buckeyes last season (28 points in 35 games). However, time certainly isn't on Wise's side (already 22 and turns 23 in Feb.), and the Blackhawks may have given up on him by now. I highly doubt that Wise will ever ink an entry-level deal with Chicago.