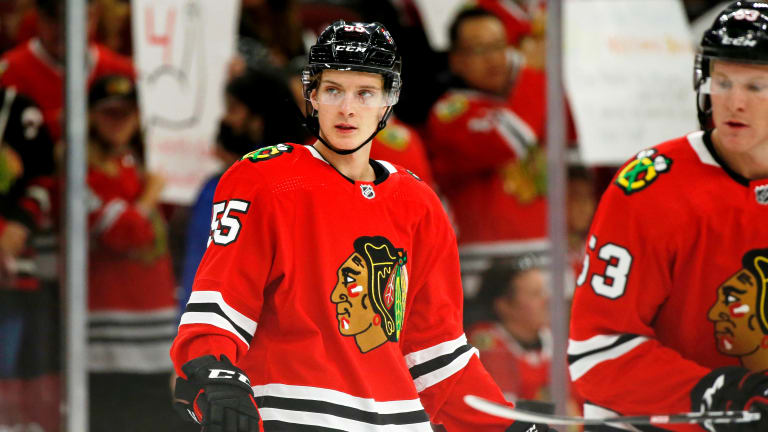 Chicago Blackhawks Assign Three on Monday, Boris Katchouk Injured, and More
The Blackhawks announced three players were assigned to juniors and the AHL, and Boris Katchouk will miss some time with an injury, among other notes.
The Chicago Blackhawks had plenty of news on Monday following a pair of losses over the weekend. After the Fiserv Forum experiment and a home loss on Saturday, there was plenty of news to share. According to reports, Kevin Korchinski, Samuel Savoie, and Arvid Soberblom have all been assigned. Korchinski and Savoie will return to their respective junior teams while Soderblom reports to Rockford to join the IceHogs. 
Korchinski and Savoie were both fairly impressive in their limited preseason action with the Blackhawks. Both players made a difference on the ice and certainly made the front office proud as parts of the 2022 NHL Draft class. Now, they'll spend the rest of the campaign working on growth with the Seattle Thunderbirds and Gatineau Olympiques, respectively. 
As for Soderblom, he'll have the 2022-23 season to be the No. 1 guy in Rockford. In the event of an injury to either Alex Stalock or Petr Mrazek, Soderblom we'll certainly be the next man up for the Blackhawks. It would not be surprising to see him make a new appearances in Chicago throughout the season. 
Injuries are Mounting
Per reports, Blackhawks' winger Boris Katchouk will miss four to six weeks with an ankle injury. This is a tough blow for both he and the Blackhawks as Katchouk will be one of the younger players looking to earn his place within the organization. As a former second-round pick and return in the Brandon Hagel trade, Katchouk is a player who can make a large impact on the roster going forward. 
Last season, Katchouk tallied a lone goal in 21 games with the Blackhawks. Of his seven total points, six of them came in 38 games with the Tampa Bay Lightning. Ideally, a larger role this season will give Katchouk a chance to thrive, but this injury certainly sets him back on accomplishing that goal. 
Jujhar Khaira, as noted above, is also nursing an ankle injury. Although not nearly as extreme as Katchouk's, losing another forward is never good for the roster, which is already thin as it is. Khaira will play a large role for the Blackhawks as a depth player, but any lingering injuries can certainly hurt his production. 
What's On Tap Next?
The Blackhawks pay the Minnesota Wild a visit on Thursday, October 6 at Xcel Energy Center in St. Paul. Puck drop is scheduled for 7:00 p.m. CDT and can be viewed on NBC Sports Chicago.