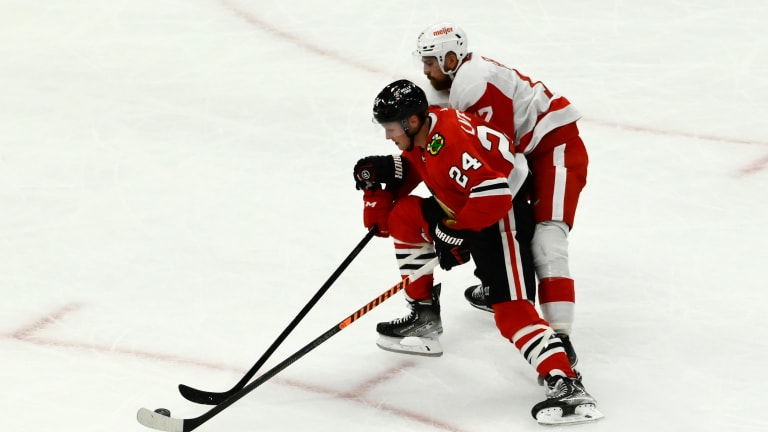 Blackhawks Finding Success While Shorthanded
With their first goal of the game on Sunday vs Seattle, the Blackhawks recorded their fourth shorthanded goal in just three games.
Entering the first intermission of Sunday's game vs. the Seattle Kraken, the Chicago Blackhawks managed to erase a two-goal deficit with a pair of special teams markers. Late in the period, a shorthanded goal from Jujhar Khaira and a power play marker from Tyler Johnson knotted the game up at two goals apiece. However, the shorthanded marker from Khaira held significant meaning. 
In the last three games, the Blackhawks have recorded four shorthanded goals. The Hawks had a pair of shorthanded tallies against the San Jose Sharks last week and added another in their comeback win over the Detroit Red Wings on Friday night. Under Luke Richardson, the penalty kill has been sensational. 
On NBC Sports Chicago's broadcast, Colby Cohen mentioned the style that Luke Richardson's system favors on the penalty kill. He noted that the forwards "have the freedom" to be aggressive and take chances up the ice. As evidenced by the numbers, the Blackhawks are playing that to their advantage. 
Although Sunday's shorthanded goal came from the Khaira/Colin Blackwell pairing, Sam Lafferty and Jason Dickinson deserve a lot of love on the kill. Both players have factored in on generating chances so far while shorthanded. The aggressive style favors energy players like Lafferty and Dickinson, leading to a dangerous situation for teams on the power play against Chicago this season.