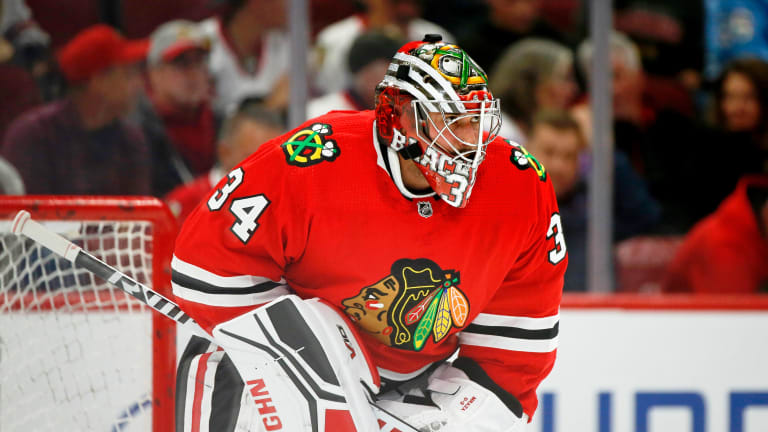 Blackhawks Make Series of Roster Moves Involving Goalies
After a slew of goalie injuries, the Blackhawks are finally receiving some clarity in net.
The Chicago Blackhawks' goalie situation has been a whirlwind to start the season. Amidst injuries to three netminders, the team announced a series of roster moves involving Petr Mrazek, Alex Stalock, and Dylan Wells.
On a positive note, Petr Mrazek has returned from injured reserve. After suffering a groin strain on Oct. 21, he has missed the Blackhawks' last eight games. Now, he will get back into action as the Hawks prepare for a West Coast swing.
Additionally, the Blackhawks officially placed Alex Stalock on injured reserve retroactive to Nov. 1. The veteran netminder has been in concussion protocol since then following a scary collision with New York Islanders forward Casey Cizikas.
The Blackhawks also placed Dylan Wells on waivers, which indicates they plan to send him back to the AHL. Wells signed an NHL contract after Stalock's injury and appeared in the third period of Saturday's game after Arvid Soderblom exited with an injury.
Soderblom's injury doesn't appear to be anything serious as the Chicago Blackhawks did not make a roster move involving him. That means he and Petr Mrazek will likely make up the goalie duo as the Blackhawks travel to Los Angeles and Anaheim this weekend.