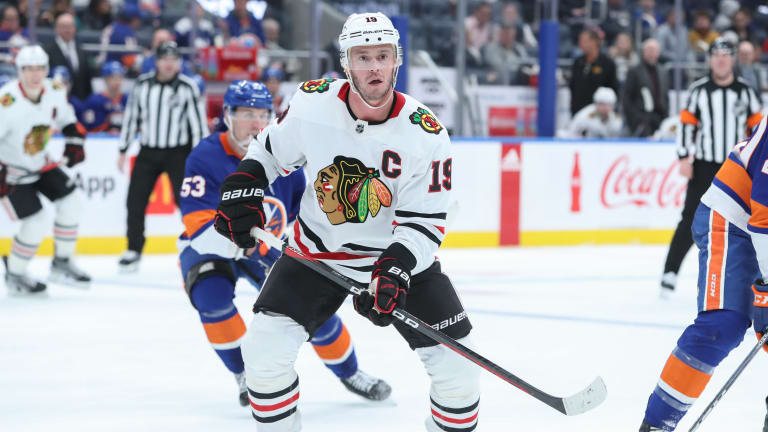 Jonathan Toews Questionable for Blackhawks vs. Devils
The Hawks' captain is dealing with an illness and will be a game-time decision.
The Chicago Blackhawks may be without their captain Tuesday against the New Jersey Devils. Jonathan Toews woke up with flu-like symptoms and missed the Hawks' morning skate. As a result, he will be a game-time decision for tonight's tilt in Newark, NJ.
"We'll just see if he gets some food in him today and if he's got some energy tonight," head coach Luke Richardson said of Toews' status. "He'll never take an easy way out, he'll try and battle through it, so it'll be probably a game-time decision."
Despite the Blackhawks' early woes, Toews is off to a strong start. He has 14 points (eight goals, six assists) in 24 games this season. The 34-year-old also ranks among the best in the NHL with a 64.2 faceoff win percentage.
If Jonathan Toews does not suit up against New Jersey, the Blackhawks will likely have to play 11 forwards and seven defensemen. Given their current roster construction, the Hawks would need to recall a forward from the Rockford IceHogs to achieve a standard 12-forward/six- defensemen grouping.
The Chicago Blackhawks are coming off a 3-0 shutout loss to the New York Islanders. They'll look to finish their East Coast road trip with a winning record as they face the Devils. Puck drop is at 6 PM CT and the game will air on NBC Sports Chicago.