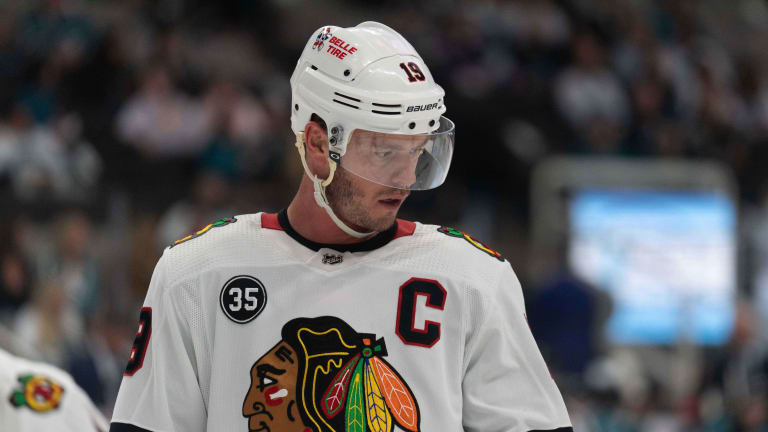 Blackhawks 'Main Group' to Play Tuesday, and More
Blackhawks' head coach Luke Richardson said the main group of the roster will suit up on Tuesday, along with a number of other roster-related notes.
The Chicago Blackhawks will finally play on the United Center ice for the first time in 2022-23 on Tuesday night. Ahead of the team's first preseason game against the St. Louis Blues, Head Coach Luke Richardson told the media that the main group of the roster will play on Tuesday night, with Petr Mrazek and Alex Stalock both seeing action in net. In addition, a number of youngsters will see some significant time as well. 
Tuesday will give fans a look at what this team will look like beginning on October 12. Patrick Kane, Jonathan Toews, and majority of the opening night roster will be on the ice for the first time. In addition, this might be the only look at the main group as a complete unit before the season opener. 
It will be intriguing to see the who plays where in the lineup. Early in training camp, Jonathan Toews has been paired with the likes of Colin Blackwell and Tyler Johnson while Patrick Kane has worked with Max Domi and Taylor Raddysh. While these groupings are likely to change between now and October 12, its still interesting to see Richardson's thought process when manufacturing the lineup. 
Also, Richardson indicated that the youngsters will also see quite a bit of playing time early on. Notably, Kevin Korchinski and Samuel Savoie were mentioned as players who will see time on Tuesday and Wednesday. 
The early portion of the preseason is important for the youngsters. As indicated by Richardson, its a huge part of the evaluation process and determining how long those guys will stay in camp before reporting to their junior teams. Regardless, it'll be exciting seeing the kids mix in with the veterans in the next two games. 
What's On Tap Next?
The Blackhawks host the Blues on Tuesday night at the United Center. Puck drop is scheduled for 7:30 p.m. CDT. Then, the team travels to Detroit to take on the Red Wings. That puck drop is scheduled for 6:30 p.m. CDT from Little Ceasars Arena on Wednesday.