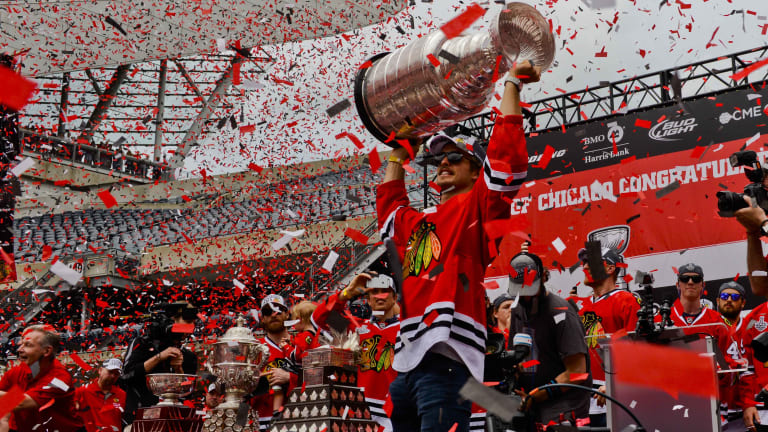 Blackhawks Legend Niklas Hjalmarsson to Continue Playing in Sweden
After attending Marian Hossa's jersey retirement ceremony, it'll be back to the grind for Niklas Hjalmarsson.
Niklas Hjalmarsson retired from the NHL on July 25, 2021. The Chicago Blackhawks legend played 14 seasons in the league, which probably felt much longer considering he blocked 1,606 shots. But Hjalmarsson is back for more as he signed with HV71 of the Swedish Hockey League on Thursday.
The defensive stalwart had been training with the club in his home country since mid-October. Now, "Hammer" has officially joined HV71 for the remainder of the 2022-23 season.
"I am very dedicated and it has been fun to join the team and get to know the guys. Now I will do everything I can to help the club and my hometown, which helped me at the start of my career," Hjalmarsson said.
Before joining the Blackhawks to begin his NHL career in 2007-08, Hjalmarsson played parts of three seasons with HV71. His hockey journey will come full circle in the near future, but not before another stop in Chicago.
The Chicago Blackhawks are retiring Marian Hossa's jersey on Nov. 20, and Niklas Hjalmarsson will participate in a pregame panel alongside former Hawks legends prior to the ceremony. But after celebrating his three-time Stanley Cup champion teammate, it'll be back to the grind.
HV71 expects Hjalmarsson to make his SHL return on November 24. It's only fitting for one of hockey's hardest-working warriors of all time.