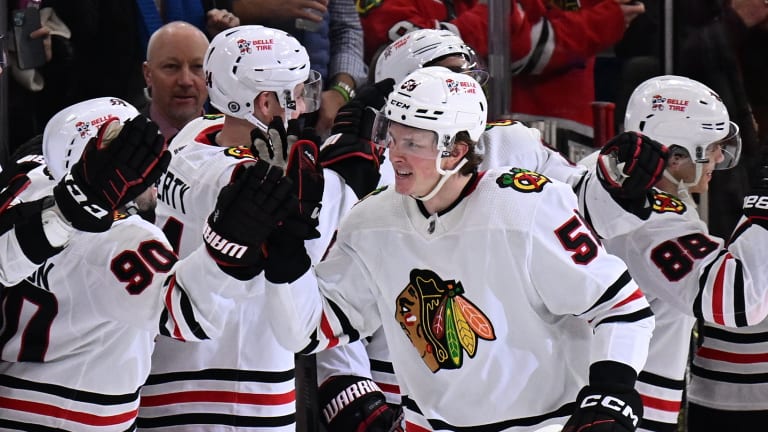 Blackhawks Place Jujhar Khaira, MacKenzie Entwistle on IR
The Blackhawks placed a pair of players on the IR while recalling a duo from AHL Rockford.
This post contains an affiliate link. On Tap Sports Net may receive a commission should you make a purchase after following an affiliate link.
In what continues to be a painful season for the Chicago Blackhawks, the health of the roster continues to suffer. In Tuesday's loss to the Tampa Bay Lightning, Patrick Kane left the game early with an undisclosed injury. Now, two other players are injured. Forwards Jujhar Khaira and MacKenzie Entwistle have been placed on the IR by the Blackhawks. 
Khaira and Entwistle are battling a lower back and wrist injury, respectively. In their place, the Hawks recalled forwards Lukas Reichel and Brett Seney from the Rockford IceHogs. 
Almost the entire Blackhawks roster is having a down season from an offensive perspective. As for Khaira and Entwistle, they've racked up six and five points, respectively, this season. On the flip side, the two forwards joining the Blackhawks have been lighting up the scoresheet in the AHL. 
As things stand in the AHL, three of the league's top five scorers are Rockford IceHogs. Seney currently sits in second with 38 points (14 goals, 24 assists) and Reichel is fifth with 36 points (14 goals, 22 assists). Their teammate and Orland Park, IL native David Gust is currently tied for third with 37 points (18 goals, 19 assists). 
There is certainly no guarantee either player makes that type of impact offensively at the NHL level. However, this is a good opportunity for both players to take advantage of some injuries and prove their worth at the next level. Although Reichel is a top prospect for the Hawks, Seney is a journeyman who was inked this summer to serve as organizational depth. Now, he finds himself with a chance to prove he has what it takes in the league. 
What's On Tap Next?
As we await more news on Kane's injury, the Blackhawks remain in Chicago as a part of a seven-game homestand that began on New Year's Day. On Friday night, the Blackhawks welcome the Arizona Coyotes to town for a 7:30 pm CST duel at the United Center. 
Looking for last-minute tickets? Score big with our friends at GameTime! Follow the link to secure for seats for Friday night's home tilt.