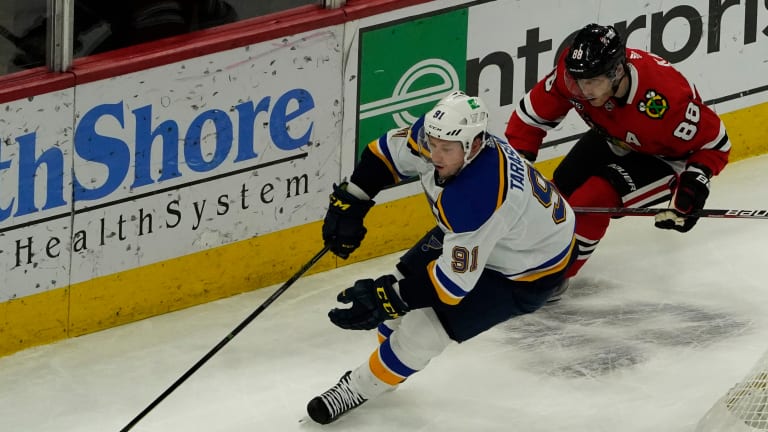 Blackhawks Preseason Opening Lineup Coming into View
With the Blackhawks set to open the preseason on Tuesday night, the team's lines during morning skate have shed some light on the initial ideas the coaches have for this season's combinations.
Although it means as much as any day of practice in comparison to the regular season, the Chicago Blackhawks' lines in Tuesday's morning skate help shed light on the initial combinations that the coaching staff will test out this season. At Tuesday's morning stake, the following line combinations were in effect for Chicago.
Last week, reports indicated that Max Domi and Patrick Kane was a combination that the team will explore heavily. However, Jonathan Toews was skating with Colin Blackwell and Tyler Johnson, while Taylor Raddysh flanked Kane and Domi to open camp. On Tuesday, Raddysh joins Toews and Johnson while newly acquired speedster Andreas Athanasiou joins the Kane/Domi duo. 
The top six is rather compelling for the Blackhawks on Tuesday. Raddysh's grit should pair well with Toews and Johnson, while the blazing speed of Athanasiou is an intriguing addition to the Kane/Domi line. As a matter of fact, Patrick Kane may help elevate both Domi and Athanasiou to heights that they have seen in the past. Hell, even Athanasiou understands the opportunity at hand in terms of playing with Kane. 
Blackhawks fans will also get first glimpses at college free agent Cole Guttman, free agent addition Colin Blackwell, draft pick Samuel Savoie, and others up front. On the back end, Alex Vlasic, Kevin Korchinski, and Ethan Del Mastro will all get looks with some veterans. 
What's On Tap?
The Blackhawks host the St. Louis Blues at the United Center on Tuesday night. Puck drop to begin the team's preseason slate is scheduled for 7:30 p.m. CDT.