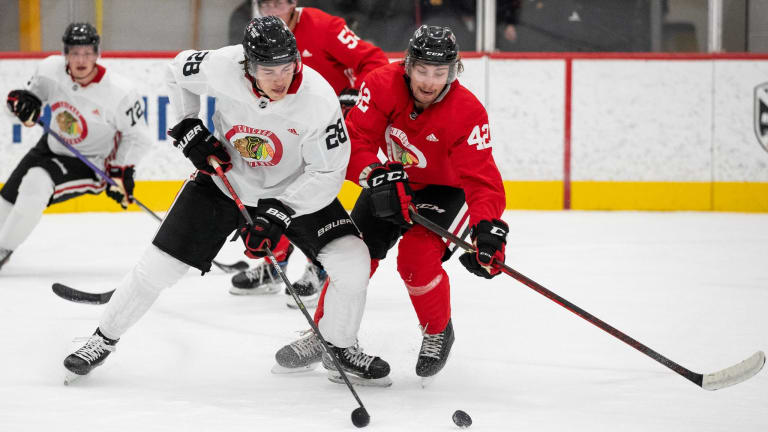 Blackhawks Prospect Nolan Allan Traded to Seattle of the WHL
The Hawks' 2021 first-round pick will now be joining Chicago's first 2022 first-round pick Kevin Korchinski with the Seattle Thunderbirds.
Although normally flying under the radar to most NHL fans, the Seattle Thunderbirds and Prince Albert Raiders executed a fairly important trade in the eyes of the Chicago Blackhawks. The Raiders have dealt Blackhawks prospect and 2021 first-round pick Nolan Allan to the Thunderbirds. The move allows Allan to join Chicago's first 2022 first-round pick, Kevin Korchinski, in the Pacific Northwest. 
Allan was having one of his best offensive seasons with the Prince Albert Raiders. In 16 games, the defenseman racked up four goals and seven assists. Throughout his career with Prince Albert, Allan amassed 63 points (14 goals, 49 assists) in 162 games. 
Now, Allan and Korchinski have a chance to play side-by-side in Seattle. Korchinski is much more of an offensive defenseman, meaning he and Allan might compliment one another well. In addition, it gives the Blackhawks a possible glimpse into the future at what might be a possible pairing in the next three years. 
Offensively, Korchinski is off to a hot start for the Thunderbirds. In just 14 games, the 2022 seventh overall selection has 21 points (three goals, 18 assists), good for third on the team. 
Seattle and Prince Albert are at two very different positions in the WHL standings. Seattle currently sits as the No. 2 seed in the Western Conference, while the Raiders are ninth out of 12 teams in the Eastern Conference. The Allan addition boosts Seattle's blue line with championship aspirations on the horizon.