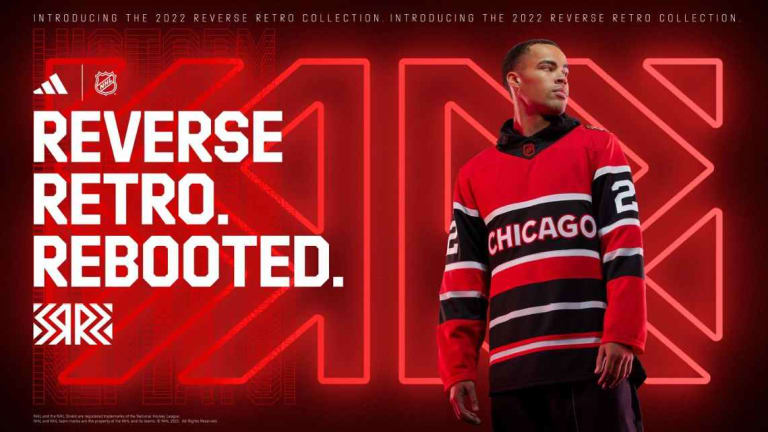 Blackhawks Release 2022-23 Reverse Retro Jersey Schedule
The Hawks will wear the jersey for one road game and four home games.
The Chicago Blackhawks released a five-game Reverse Retro jersey schedule Friday.
The Blackhawks will wear their 1938-inspired jersey for the first time on Nov. 19 when they visit the Boston Bruins. Chicago will then wear it four more times, all at home. The Blackhawks' Black Friday (Nov. 25) matinee against the Montreal Canadiens and New York Rangers on Dec. 18 before the new year. Chicago will wear it again against the Calgary Flames on Jan. 8 and Colorado Avalanche on Jan. 12.
The Blackhawks will wear their Reverse Retro jersey in Boston because the Bruins' Reverse Retro jersey is primarily white. The two franchises being from the "Original Six" also likely played a role in the decision rather than Chicago wearing its primary red jersey.
Chicago Blackhawks Reverse Retro Schedule 2022-23
Saturday, Nov. 19: at Boston (6 PM)
Friday, Nov. 25: vs. Montreal (1 PM)
Sunday, Dec. 18: vs. NY Rangers (6:30 PM)
Sunday, Jan. 8: vs. Calgary (6 PM)
Thursday, Jan. 12 vs. Colorado (7:30 PM)