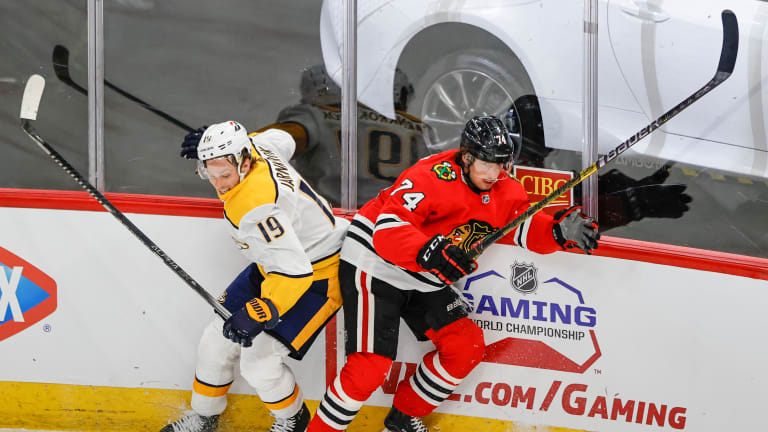 Blackhawks Trade Nicolas Beaudin to Montreal Canadiens
The Blackhawks are sending 2018 first-round pick Nicolas Beaudin to the Montreal Canadiens for forward Cameron Hillis.
As the Chicago Blackhawks move in a new direction under general manager Kyle Davidson, more Stan Bowman picks and pieces are being shipped elsewhere. Last season, Alexander Nylander was sent to Pittsburgh for Sam Lafferty, Kirby Dach was traded for draft picks at this year's draft, and now another former first-round selection is on the move. According to Blackhawks Insider Charlie Roumeliotis, defenseman Nicolas Beaudin is off to Montreal in exchange for forward Cameron Hillis. 
As indicated in the above tweet, Hillis will report to the Rockford IceHogs, Chicago's AHL affiliate. 
Both players in this transaction were 2018 draft picks. Beaudin was taken 27th overall by the Blackhawks after they acquired the pick from the Nashville Predators in the Ryan Hartman trade. As for Hillis, he was the No. 66 overall selection in the 2018 draft. 
Beaudin never reached his draft status as a first-round pick. During the abbreviated 2020-21 season, Beaudin played a career-high 19 NHL games with the Blackhawks, recording six points. However, Beaudin played just three additional games with the Blackhawks, spending majority of his time in Rockford. His best season at the AHL level was the 2021-22 campaign, where he recorded 16 points in 66 games. 
As for Hillis, he's played at every level within the Canadiens' system during his career. After turning pro in 2020-21, Hillis has played in the ECHL, AHL, and NHL. However, Hillis' best statistical season came in 2021-22. Splitting time between the ECHL and AHL, Hillis recorded 18 points in 38 games. Hillis adds another young forward for the Blackhawks to develop at the AHL level. 
Final Thoughts
Truthfully, it comes as little surprise that Beaudin was shipped out of Chicago. Although a promising player, he fell behind on the organizational depth chart thanks to names such as Alec Regula, Alex Vlasic, Isaak Phillips, and others. Now, a fresh start north of the border could be exactly what Beaudin needs. 
As for Hillis, there is clearly something the new regime sees in his game that they like. Perhaps Hillis' motor or style of play fits what they're trying to do? With less forward depth in the organization than defensemen, Davidson is doing his best to take swings on guys that can provide depth while still offering promise. 
What's On Tap Next?
Following a fourth straight win, the Blackhawks remain in Chicago as they wait for their Thursday evening matchup with the Edmonton Oilers. Puck drop is scheduled for 7:30 p.m. CDT from the United Center. The broadcast will be available on NBC Sports Chicago.