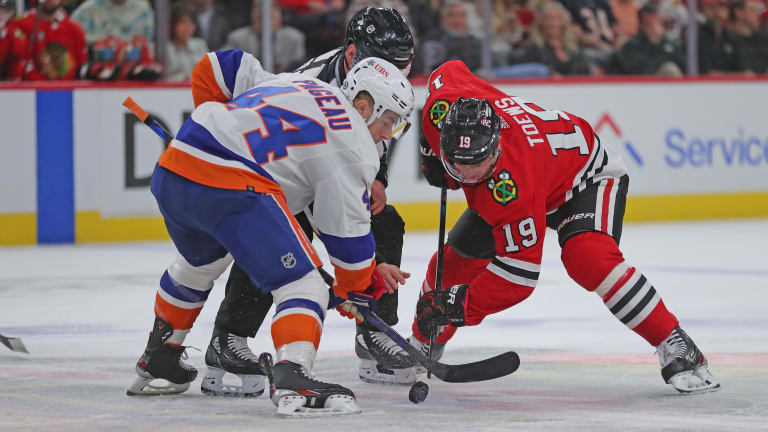 Chicago Blackhawks TV Schedule for 2022-23 Season Finalized
A rebuilding season will see the Blackhawks play nine times on national TV and five times exclusively on ESPN+/Hulu.
Turner Sports and ESPN/ABC have released their national broadcast schedules for the 2022-23 NHL season. The Chicago Blackhawks have nine games on national TV and five ESPN+/Hulu-exclusive contests. The remainder of the schedule will air on NBC Sports Chicago.
TNT
Just like last season, opening night showcases the Blackhawks on the national stage against the Colorado Avalanche. This time around, the Avs will raise a Stanley Cup banner to the rafters prior to the season opener on TNT.
That contest marks the first of six Blackhawks' games on TNT. Tough opponents in the Blues (Nov. 16), Oilers (Nov. 30), Maple Leafs (Feb. 15), Stars (Feb. 22), and Red Wings (March 8) round out the Hawks' TNT schedule.
ESPN/ESPN 2
On ESPN networks, the Blackhawks will be on national TV four times. Chicago faces the Capitals (Dec. 13 on ESPN), Rangers (Dec. 18 on ESPN), Devils (April 1 on ESPN2), and Wild (April 10 on ESPN).
ESPN+/Hulu
Additionally, the Blackhawks have four games that can only be seen on ESPN+/Hulu. That slate sees the Hawks play the Kings (Nov. 10), Wild (Dec. 16), Maple Leafs (Feb. 19), and Predators (March 16).
Chicago Blackhawks TV Schedule for 2022-23 Season
| Date | Time (CT) | Opponent | TV Channel |
| --- | --- | --- | --- |
| Wed, Oct. 12 | 8:30 PM | at Colorado Avalanche | TNT |
| Thu, Oct. 13 | 9:00 PM | at Vegas Golden Knights | NBC Sports Chicago |
| Sat, Oct. 15 | 9:00 PM | at San Jose Sharks | NBC Sports Chicago |
| Fri, Oct. 21 | 7:30 PM | vs. Detroit Red Wings | NBC Sports Chicago |
| Sun, Oct. 23 | 1:00 PM | vs. Seattle Kraken | NBC Sports Chicago |
| Tue, Oct. 25 | 7:30 PM | vs. Florida Panthers | NBC Sports Chicago |
| Thu, Oct. 27 | 7:30 PM | vs. Edmonton Oilers | NBC Sports Chicago |
| Sat, Oct. 29 | 6:00 PM | at Buffalo Sabres | NBC Sports Chicago |
| Sun, Oct. 30 | 6:00 PM | vs. Minnesota Wild | NBC Sports Chicago |
| Tue, Nov. 1 | 7:30 PM | vs. New York Islanders | NBC Sports Chicago |
| Thu, Nov. 3 | 7:30 PM | vs. Los Angeles Kings | NBC Sports Chicago |
| Sat, Nov. 5 | 2:00 PM | at Winnipeg Jets | NBC Sports Chicago |
| Thu, Nov. 10 | 9:30 PM | at Los Angeles Kings | ESPN+/Hulu |
| Sat, Nov. 12 | 9:00 PM | at Anaheim Ducks | NBC Sports Chicago |
| Mon, Nov. 14 | 7:30 PM | vs. Carolina Hurricanes | NBC Sports Chicago |
| Wed, Nov. 16 | 6:30 PM | vs. St. Louis Blues | TNT |
| Sat, Nov. 19 | 6:00 PM | at Boston Bruins | NBC Sports Chicago |
| Sun, Nov. 20 | 6:00 PM | vs. Pittsburgh Penguins | NBC Sports Chicago |
| Wed, Nov. 23 | 7:30 PM | at Dallas Stars | NBC Sports Chicago |
| Fri, Nov. 25 | 1:00 PM | vs. Montreal Canadiens | NBC Sports Chicago |
| Sun, Nov. 27 | 6:00 PM | vs. Winnipeg Jets | NBC Sports Chicago |
| Wed, Nov. 30 | 8:30 PM | vs. Edmonton Oilers | TNT |
| Sat, Dec. 3 | 6:30 PM | at New York Rangers | NBC Sports Chicago |
| Sun, Dec. 4 | 6:30 PM | at New York Islanders | NBC Sports Chicago |
| Tue, Dec. 6 | 6:00 PM | at New Jersey Devils | NBC Sports Chicago |
| Fri, Dec. 9 | 7:30 PM | vs. Winnipeg Jets | NBC Sports Chicago |
| Tue, Dec. 13 | 8:00 PM | vs. Washington Capitals | ESPN |
| Thu, Dec. 15 | 7:30 PM | vs. Vegas Golden Knights | NBC Sports Chicago |
| Fri, Dec. 16 | 7:00 PM | at Minnesota Wild | ESPN+/Hulu |
| Sun, Dec. 18 | 6:30 PM | vs. New York Rangers | ESPN |
| Wed, Dec. 21 | 7:30 PM | vs. Nashville Predators | NBC Sports Chicago |
| Fri, Dec. 23 | 7:30 PM | vs. Columbus Blue Jackets | NBC Sports Chicago |
| Tue, Dec. 27 | 6:00 PM | at Carolina Hurricanes | NBC Sports Chicago |
| Thu, Dec. 29 | 7:00 PM | at St. Louis Blues | NBC Sports Chicago |
| Sat, Dec. 31 | 12:00 PM | at Columbus Blue Jackets | NBC Sports Chicago |
| Sun, Jan. 1 | 6:00 PM | vs. San Jose Sharks | NBC Sports Chicago |
| Tue, Jan. 3 | 7:30 PM | vs. Tampa Bay Lightning | NBC Sports Chicago |
| Fri, Jan. 6 | 7:30 PM | vs. Arizona Coyotes | NBC Sports Chicago |
| Sun, Jan. 8 | 6:00 PM | vs. Calgary Flames | NBC Sports Chicago |
| Thu, Jan. 12 | 7:30 PM | vs. Colorado Avalanche | NBC Sports Chicago |
| Sat, Jan. 14 | 7:00 PM | vs. Seattle Kraken | NBC Sports Chicago |
| Tue, Jan. 17 | 7:30 PM | vs. Buffalo Sabres | NBC Sports Chicago |
| Thu, Jan. 19 | 6:00 PM | at Philadelphia Flyers | NBC Sports Chicago |
| Sat, Jan. 21 | 7:00 PM | at St. Louis Blues | NBC Sports Chicago |
| Sun, Jan. 22 | 6:00 PM | vs. Los Angeles Kings | NBC Sports Chicago |
| Tue, Jan. 24 | 9:00 PM | at Vancouver Canucks | NBC Sports Chicago |
| Thu, Jan. 26 | 8:00 PM | at Calgary Flames | NBC Sports Chicago |
| Sat, Jan. 28 | 9:00 PM | at Edmonton Oilers | NBC Sports Chicago |
| Tue, Feb. 7 | 7:30 PM | vs. Anaheim Ducks | NBC Sports Chicago |
| Fri, Feb. 10 | 7:30 PM | vs. Arizona Coyotes | NBC Sports Chicago |
| Sat, Feb. 11 | 9:00 PM | at Winnipeg Jets | NBC Sports Chicago |
| Tue, Feb. 14 | 6:00 PM | at Montreal Canadiens | NBC Sports Chicago |
| Wed, Feb. 15 | 6:00 PM | at Toronto Maple Leafs | TNT |
| Fri, Feb. 17 | 6:00 PM | at Ottawa Senators | NBC Sports Chicago |
| Sun, Feb. 19 | 5:00 PM | vs. Toronto Maple Leafs | ESPN+/Hulu |
| Tue, Feb. 21 | 7:30 PM | vs. Vegas Golden Knights | NBC Sports Chicago |
| Wed, Feb. 22 | 8:30 PM | at Dallas Stars | TNT |
| Sat, Feb. 25 | 9:00 PM | at San Jose Sharks | NBC Sports Chicago |
| Mon, Feb. 27 | 9:00 PM | at Anaheim Ducks | NBC Sports Chicago |
| Tue, Feb. 28 | 8:00 PM | at Arizona Coyotes | NBC Sports Chicago |
| Thu, March 2 | 7:30 PM | vs. Dallas Stars | NBC Sports Chicago |
| Sat, March 4 | 7:00 PM | vs. Nashville Predators | NBC Sports Chicago |
| Mon, March 6 | 8:00 PM | vs. Ottawa Senators | NBC Sports Chicago |
| Wed, March 8 | 6:30 PM | at Detroit Red Wings | TNT |
| Fri, March 10 | 6:00 PM | at Florida Panthers | NBC Sports Chicago |
| Sat, March 11 | 6:00 PM | at Tampa Bay Lightning | NBC Sports Chicago |
| Tue, March 14 | 7:30 PM | vs. Boston Bruins | NBC Sports Chicago |
| Thu, March 16 | 7:00 PM | at Nashville Predators | ESPN+/Hulu |
| Sat, March 18 | 9:30 PM | at Arizona Coyotes | NBC Sports Chicago |
| Mon, March 20 | 8:00 PM | at Colorado Avalanche | NBC Sports Chicago |
| Thu, March 23 | 6:00 PM | at Washington Capitals | NBC Sports Chicago |
| Sat, March 25 | 4:00 PM | at Minnesota Wild | NBC Sports Chicago |
| Sun, March 26 | 5:00 PM | vs. Vancouver Canucks | NBC Sports Chicago |
| Tue, March 28 | 7:30 PM | vs. Dallas Stars | NBC Sports Chicago |
| Thu, March 30 | 7:30 PM | vs. St. Louis Blues | NBC Sports Chicago |
| Sat, April 1 | 7:00 PM | vs. New Jersey Devils | ESPN2 |
| Tue, April 4 | 8:00 PM | at Calgary Flames | NBC Sports Chicago |
| Thu, April 6 | 9:00 PM | at Vancouver Canucks | NBC Sports Chicago |
| Sat, April 8 | 9:00 PM | at Seattle Kraken | NBC Sports Chicago |
| Mon, April 10 | 8:00 PM | vs. Minnesota Wild | ESPN |
| Tue, April 11 | 6:30 PM | at Pittsburgh Penguins | NBC Sports Chicago |
| Thu, April 13 | 7:30 PM | vs. Philadelphia Flyers | NBC Sports Chicago |
RELATED: Blackhawks Announce Broadcast Team, Including Patrick Sharp