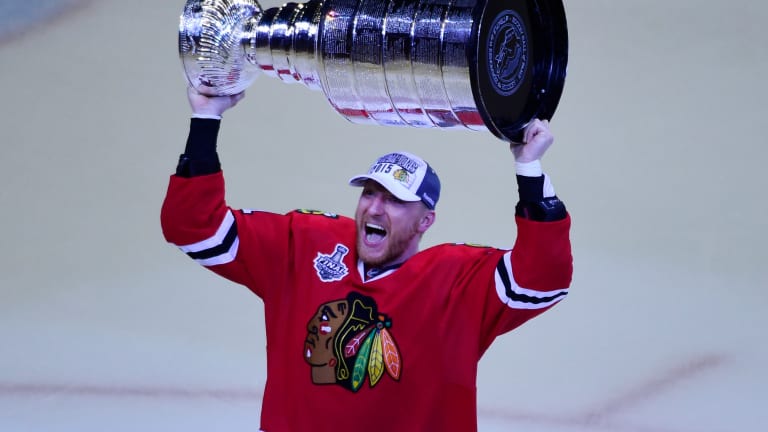 Blackhawks' Legend Marian Hossa's Autobiography to Release in November
The Hockey Hall of Famer co-authored the book with Scott Powers of The Athletic.
Marian Hossa's autobiography, "Marian Hossa: My Journey from Trencín to the Hall of Fame" is set to release Nov. 8.
Scott Powers of The Athletic co-authored the book with Hossa.
Hossa, who was inducted into the Hockey Hall of Fame last November, signed a one-day contract in April to retire with the Blackhawks. The forward won three Stanley Cup championships with Chicago (2010, 2013, and 2015). A progressive skin disorder ended his playing career after the 2016-17 season.
Three days after Hossa officially retired, the Blackhawks announced they would retire the winger's No. 81 during the 2022-23 season. The team did not say what day the ceremony will happen.
Hossa scored 1,134 points (525 goals, 609 assists) in 1,309 games for the Senators (1998-2004), Thrashers (2005-08), Penguins (2008), Red Wings (2008-09), and Blackhawks (2009-17). He had 149 points (52 goals, 97 assists) in 205 Stanley Cup Playoff games and played in the Stanley Cup Final five times. He is the only player to play in the Final in three straight seasons with three teams.
Hossa played the final eight seasons of his 19-year NHL career with the Blackhawks after signing a 12-year contract on July 1, 2009. He had 415 points (186 goals, 229 assists) in 534 regular-season games for Chicago. Hossa added 73 points (21 goals, 52 assists) in 107 playoff games with the Blackhawks.
The autobiography details Hossa's early years in Slovakia and journey into hockey. He and his brother discuss the beginning of their hockey careers and talk through their determination to play professionally.
Marian Hossa Autobiography Overview
"In this inspiring and entertaining autobiography, Hossa brings readers inside the dressing room, onto the celebratory team plane, and alongside one of hockey's greatest stars as he makes the biggest decisions of his career. Also featuring photos from Hossa's personal collection, this is an essential read for all hockey fans."