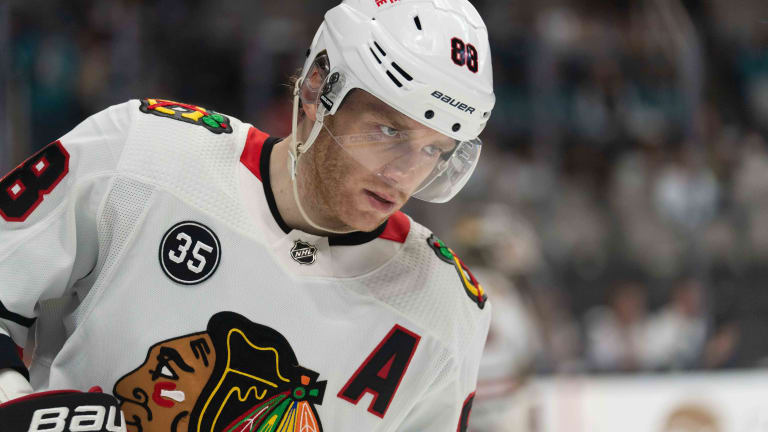 Max Domi, Patrick Kane to Start on Same Line in Blackhawks Training Camp
With a much different looking roster, Blackhawks' head coach Luke Richardson said he's going to pair Max Domi and Patrick Kane together on a line at the start of training camp.
With Chicago Blackhawks training camp beginning on Thursday, Sept 22, the news cycle is growing. On Wednesday, Head Coach Luke Richardson and General Manager Kyle Davidson met with the media ahead of camp. When discussing players being paired together, Luke Richardson said that Patrick Kane will open camp on a line with newly acquired center/wing Max Domi. 
In this instance, there is a high likelihood that Domi will be playing center. Who the opposite winger will be remains to be seen, but these two have been confirmed as a pair by Richardson. 
This is interesting. The rest of the roster is lacking talent that is anywhere near Patrick Kane's. After Alex DeBrincat's departure via trade, Kane was left without a "partner in crime" of sorts. Will Domi be able to help Kane's success? Will Kane help improve Domi's offensive numbers? All of these are questions on the minds of fans entering camp. 
Two of Domi's best offensive season came in Montreal when Richardson was an assistant coach with the Canadiens. Reports also indicate that Domi wanted to come to Chicago because of Richardson accepting the head coaching position. Perhaps a rebound season is in store for Domi. 
Patrick Kane is the type of player who can carry a line no matter who is with him. However, if Domi can tap into some of the offensive flare he displayed in Montreal, then maybe the Hawks have enough on the top line to make things interesting. The team will struggle scoring in 2022-23, but having at least one line that can generate offense is better than nothing entering the season.