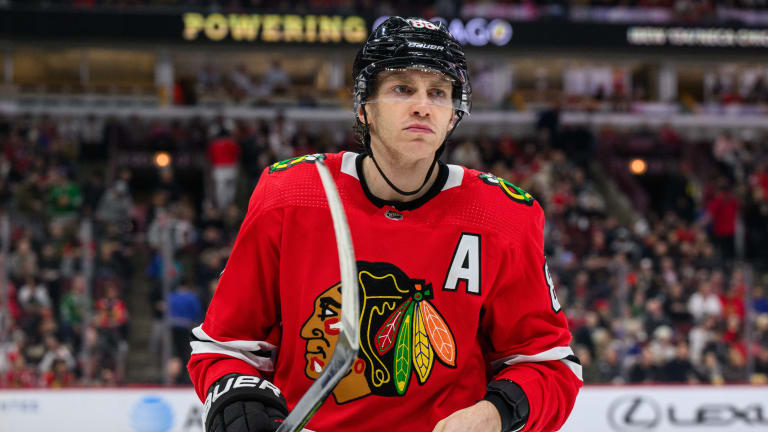 Patrick Kane, Andreas Athanasiou Miss Blackhawks Practice
Kane's absence is notable, but it shouldn't set off alarm bells just yet.
As the Chicago Blackhawks took the ice for Thursday's practice, Patrick Kane and Andreas Athanasiou were not among the group. Kane is taking a maintenance day and Athanasiou is dealing with a non-COVID related illness.
Patrick Kane Injury Update
While the Blackhawks didn't necessarily provide a formal update on Patrick Kane's injury, his absence due to "maintenance" is a hopeful sign.
The star winger exited early from Tuesday's game against the Tampa Bay Lightning due to a lower-body injury. It seems to be a lingering issue resulting from a hit he took along the boards in Sunday's contest against the San Jose Sharks:
Kane finished Sunday's contest without issue and skated on the first line Tuesday. He recorded two shots on goal and two penalty minutes in 12:57 of ice time against Tampa Bay before his premature departure.
What's On Tap Next?
The Chicago Blackhawks return to game action Friday when they host the Arizona Coyotes. If Patrick Kane and Andreas Athanasiou aren't able to suit up, the Blackhawks will be without two of their top offensive threats. The team does have a few reinforcements in tow as Lukas Reichel and Brett Seney were recalled from the Rockford IceHogs on Wednesday.