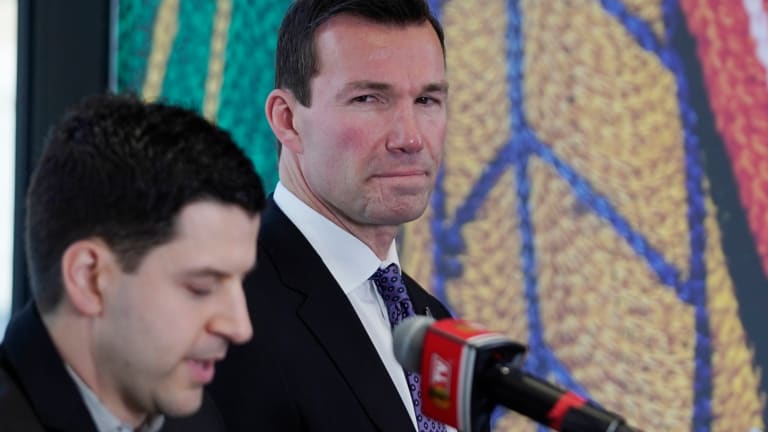 Blackhawks Quell Kane and Toews Trade Noise, Have a No-Tank Mindset
The Blackhawks' 2022-23 season is sure to be a whirlwind on and off the ice. But playing – and winning – hockey games is the organization's current focus.
The Chicago Blackhawks enter training camp in a tough spot. Their early struggles in 2021-22 triggered a sell-off of players and a reshuffling of the front office and coaching staff. 
General manager Kyle Davidson has stripped down the roster significantly, but he did not go as far as trading franchise cornerstones Patrick Kane and Jonathan Toews.
And that sentiment still holds as Davidson said he has not entertained trading the two stars.
Both players are on expiring contracts, which makes them ideal trade candidates. However, all signs from the Blackhawks indicate Kane and Toews aren't going anywhere ahead of the season.
Of course, the rumblings and rumors will persist throughout the season and heat up at the trade deadline.
But for now, the Blackhawks' focus – from the front office to the locker room – is on starting the 2022-23 season.
No-Tank Mindset
Kyle Davidson will have to see what new head coach Luke Richardson is able to assemble with a lackluster roster. Richardson seems up for the challenge, as he wants "to make this the toughest job possible" for Davidson and "try to win as much as possible."
Davidson ultimately echoed that sentiment, though he also has his eye on the future.
"We are thinking long-term in many respects. But that doesn't change the fact that when you walk into the rink, you walk into the United Center, you want the Blackhawks to win. And that doesn't change. So that's the view I take on it," he said.
If Richardson can get the team to mesh, the foundation of Patrick Kane and Jonathan Toews could still work. If the Blackhawks prove people wrong, as Kane wants to do, Richardson will indeed accomplish his goal of making life hard for Davidson.
But even if Richardson's group overachieves, Davidson may still elect to stockpile assets by moving his most enticing trade chips.
The Chicago Blackhawks' 2022-23 campaign is sure to be a whirlwind on and off the ice. Only time will tell how much longer Kane and Toews suit up for the Blackhawks. But with training camp underway, playing – and winning – hockey games is the center of attention.