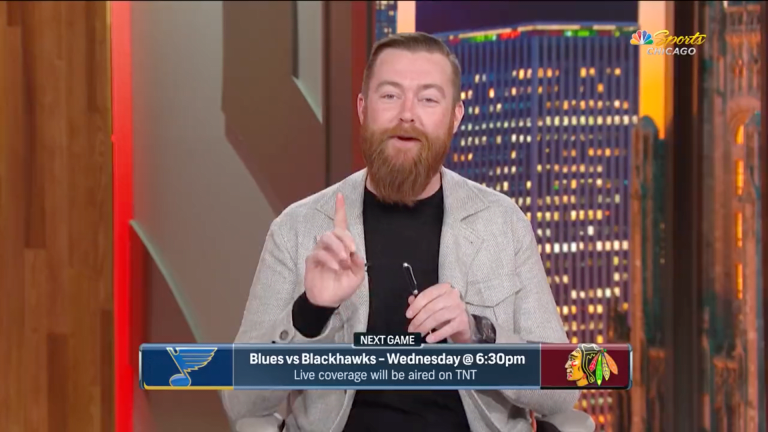 Scott Darling Roasts St. Louis Ahead of Blackhawks vs. Blues
The former Blackhawks' goalie didn't mince words when discussing the city of St. Louis and the Blues.
The Chicago Blackhawks and St. Louis Blues are preparing to face off for the first time this season. Former Blackhawks' goalie Scott Darling, who now serves as an analyst for NBC Sports Chicago, is getting into the spirit of the rivalry ahead of Wednesday's matchup. On the network's Monday postgame show, Darling didn't mince words when discussing the city of St. Louis and the Blues.
Darling's unapologetic claims dub St. Louis as the worst city in the country and the Enterprise Center as the worst place to play. And even after he left Chicago, Darling wanted nothing to do with St. Louis. He mentioned that the Blues were the first team he put on his list of no-gos as part of his modified no-trade clause with the Carolina Hurricanes.
Obviously, the Blackhawks and their players don't like the Blues, and vice versa. The fierce rivalry dates back to 1967 and has featured 386 meetings. Tensions often run high, as exemplified by the St. Patrick's Day Massacre in 1991.
Chicagoans having disdain for St. Louis is nothing new. In 2019, former Cubs' star Kris Bryant shared Darling's sentiment when he famously dubbed The Gateway City as "so boring," which became a mainstay among Chicagoans' vernacular.
Now, Scott Darling is taking the trash talk to the ice and beyond. Needless to say, he'll be one of the happiest humans around if the Chicago Blackhawks are able to beat the St. Louis Blues Wednesday on national TV.