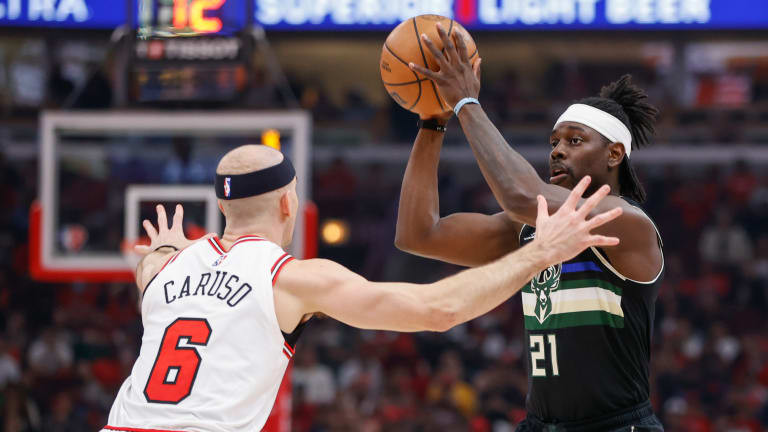 Chicago Bulls 2022-23 Player Profile: Alex Caruso
The Bulls need improved three-point shooting and defensive leadership from Caruso to succeed this season.
Alex Caruso introduced himself to the Windy City by serving as a sparkplug for the Chicago Bulls. He provided strong defense and an energy boost off the bench in 2021-22 to quickly become a fan favorite. Availability was an issue, however, as injuries limited the 28-year-old to just 41 games.
In 2022-23, the Bulls will need more of Caruso on the court, and more from Caruso when he's on the court.
Offense
When Lonzo Ball went down with an injury last season, Caruso was thrust into an elevated offense role. He did a solid job distributing and finding ways to score but struggled from three.
Caruso attempted a career-high 3.1 threes per game compared to 2.4 the year prior. He has never been a high-volume three-point shooter, so his percentage dipped to 33.3%. His 36% career average is a bit deceiving because he has shot over 40% twice and below 33% twice as well.
In 2022-23, Caruso's goal should be to shoot at a better clip from beyond the arc on a higher volume. With Ball sidelined to start the season, Caruso's contributions from beyond the arc become all the more important. And it seems he has been working to improve in this area.
Defense
This is where Alex Caruso makes a name for himself. Last year, he was able to guard 1-3 without issue and held his own on switches with 4s. But due to the Bulls' defensive deficiencies with Lonzo Ball sidelined, Caruso was stretched too thin.
The Bulls have done a few things to bolster their defense entering 2022-23. In the frontcourt, Andre Drummond joins the mix. The veteran's size will cut down on Caruso having to switch to a big man in pick-and-roll situations. Instead, he will be able to hedge over the screener to apply more pressure on the ball.
Additionally, Ayo Dosunmu gained a plethora of experience during his rookie season, which should help his growth defensively this year. Caruso has been coaching him up, and if it sticks with Dosunmu, the duo could be a top defensive pairing.
The Chicago Bulls also added Dalen Terry via the draft. While he may not be a lockdown defender, he can help in the backcourt. As is the case with Dosunmu, Caruso's teaching skills will be paramount in how much the rookie can absorb. The more players the Bulls have applying pressure, the more turnovers they will create. Look for Caruso to lead by example in that department as he looks to build on his career-best 1.7 steals per game mark from last season.
RELATED: Alex Caruso Ready to Run it Back, Excited About Bulls' Point Guard Room