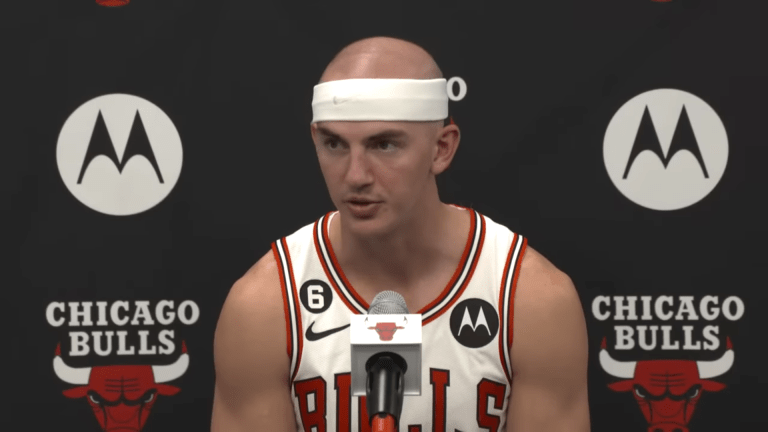 Alex Caruso Ready to Run it Back, Excited About Bulls' Point Guard Room
The veteran is ready for the season to start and can't wait to work with the other point guards.
Alex Caruso's signing last offseason proved to be crucial for the Chicago Bulls. He infused energy into the team every time he stepped on the court and played tough defense.
When he was out with a wrist injury, the team tried to carry the slack but there was a noticeable void. The Bulls ended up making the playoffs but got bounced in the first round by the Milwaukee Bucks.
Now entering his second season with the Bulls, Caruso is ready to run it back. "We have a really, really good team," he said.
Caruso also emphasized one of his strengths as a point of focus for the team. "If we want to win games, play in the postseason and go deep in the postseason like we talk about, we have to play defense," he explained.
Caruso isn't wrong. When he and Lonzo Ball were healthy, the Bulls touted a top-10 defense. Once the pair started to miss time due to injury, the Bulls plummeted into the bottom third in the league. The likes of Ayo Dosunmu and Patrick Williams will have to take the next steps in their development to help Chicago maintain consistency in 2022-23.
Speaking on Ball's absence to start the season, Caruso pointed to the depth of the point guard room. Dosunmu, Goran Dragic, and Caruso will likely all see time running the point this season. But Caruso sees the positives in that scenario, noting that each guy's style of play is different so there is something to learn from everyone.
Caruso made it a point to emphasize Dragic's toughness.
"The dude blew his knee out in the Finals and tried to come back and play three games later. You don't have to worry about toughness with him."
With Ball out and no return timeline in place, Alex Caruso will have to carry the load as the Chicago Bulls' defensive anchor. If he can stay healthy, he will be in a good position to maintain that role.