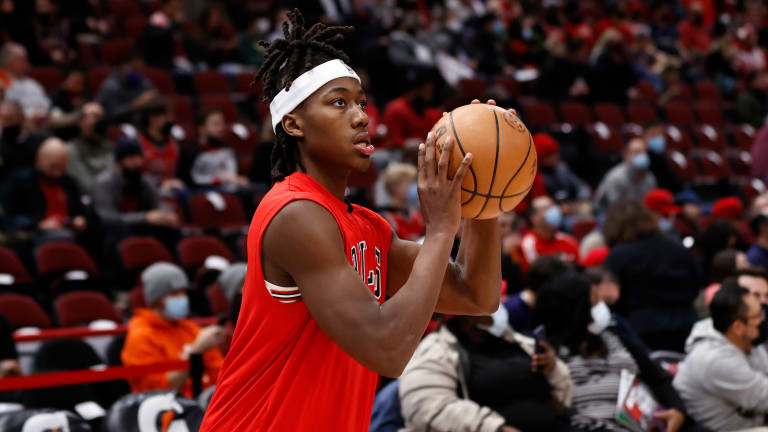 Bulls Injury Updates: Ayo Dousnumu Returns to Practice, Andre Drummond Sits Out
Dosunmu is trending toward playing Tuesday while Drummond is still nursing a shoulder injury.
Chicago Bulls' point guard Ayo Dosunmu returned to practice on Monday. During Friday's game against the San Antonio Spurs, Dosunmu fell to the ground and struck the back of his head on a defender's knee. He received treatment afterward but returned to the game. However, the Bulls ruled Dosunmu out for Saturday's contest against the Philadelphia 76ers.
Additionally, Bulls' backup big man Andre Drummond was roughed up a bit Friday against the Spurs. Drummond entered the paint for a layup and was fouled, causing him to land on his right hand and shoulder. Drummond stayed in the game but was ruled out Saturday against the 76ers along with Dosunmu.
The Chicago Bulls are currently 3-4 in the early stages of the season. They've been competitive in every game aside from their home opener debacle against the Cleveland Cavaliers. Health has been an ongoing issue for the Bulls since January of last year. Lonzo Ball is still out and Zach LaVine is on a load management schedule as he continues to heal his left knee.
Billy Donovan said Ayo Dosunmu is trending toward playing Tuesday against the Brooklyn Nets, but the Bulls listed him as questionable on Monday's injury report. Donovan added that Andre Drummond is still nursing his shoulder, which will keep him out Tuesday, but it shouldn't be a long-term issue. The Bulls need to be at full strength for a legitimate shot and postseason hopes in what is a crowded Eastern Conference.