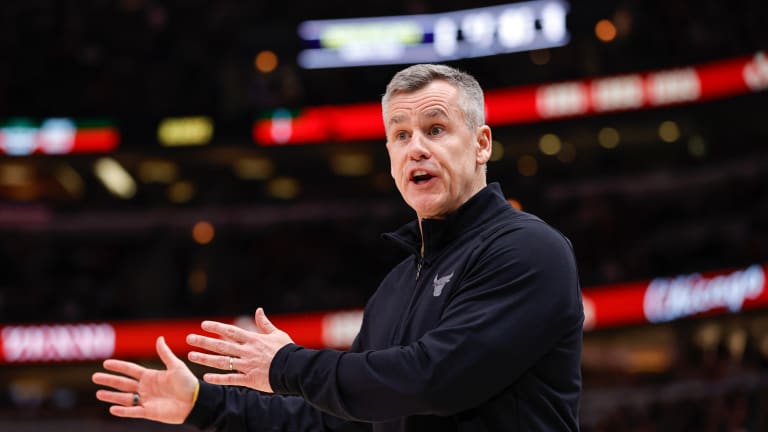 Reflecting on Bulls' Head Coach Billy Donovan After 2 Years on the Job
How has Billy Donovan fared with the Bulls two years into his tenure?
Thursday marked the two-year anniversary of Billy Donovan taking over as head coach of the Chicago Bulls. It was one of the first moves that executive vice president of basketball operations Arturas Karnisovas made in shaping Chicago's future.
When Karnisovas started the search, Donovan was still coaching the Oklahoma City Thunder. The moment he left OKC, Karnisovas shifted gears quickly and landed Donovan because he was better than any other candidate.
Excited for a new era, Bulls' fans seemed thrilled about the hire at the time. That sentiment has settled into being content with Donovan, but most expect to see a big step forward in 2022-23.
In his first two seasons with the Bulls, Donovan's teams have been good on one side of the ball. In 2020-21, the Bulls touted the 21st-best offense and 12th-best defense in the NBA. Those strengths flipped last season as Chicago featured the 13th-best offense and 23rd-best defense. Moving forward, Donovan must get his team firing on all cylinders.
In 2022-23, Donovan is running it back with the same team for once. The Bulls' offseason additions of Goran Dragic and Andre Drummond weren't blockbuster moves, but they filled some important holes. Donovan has no fallbacks if his team doesn't have more success this year.
Player Development
Under Billy Donovan, certain players have shown growth on the court, which he deserves some credit for. Ayo Dosunmu, a second-round draft pick, played well enough on both ends of the floor to secure a spot in the NBA Rising Stars Game.
On the other hand, Coby White's performance has been inconsistent. While White is one of the players remaining from the previous regime, it would be nice to see Donovan milk some consistent shooting out of him.
Donovan is entering the third season of his four-year contract. After a first-round exit from the playoffs last season, he will undoubtedly feel some pressure in 2022-23.
If the Chicago Bulls show consistency on both ends of the court and continued development, it will bode well for Donovan. If not, his seat may have some heat under it.