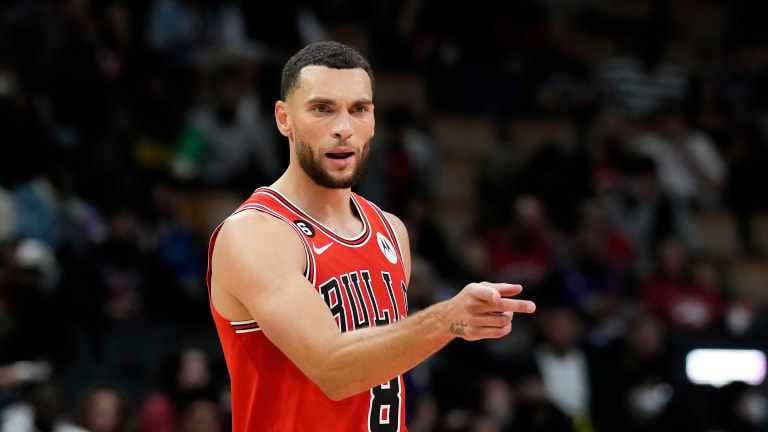 Billy Donovan Expects Zach LaVine To Play In Bulls Home Opener
Zach appears to be making his season debut against Cleveland.
Well, this is some good and expected news. Chicago Bulls head coach, Billy Donovan, told reporters that Zach LaVine will likely play Saturday night at the United Center. LaVine missed the season's first two games due to "left-knee injury management."
Zach LaVine Injury Management
In what came as a shock to many fans Wednesday morning, the Bulls listed Zach LaVine as out for the season opener. After an offseason with the front office and LaVine himself telling fans he was a full go, this was a harsh blow. 
Though LaVine missed the first game of the season, DeMar DeRozan and company were able to steal a victory in Miami against the Heat. But LaVine also missed Friday night's loss against the Washington Wizards and the Bulls fell one shot short.
LaVine's second consecutive absence is likely due to the Bulls placing a back-to-back limit on LaVine early on in the 2022-23 season. 
At the very least, Zach LaVine will make his season debut in front of what should be a rowdy crowd at the United Center on Saturday night. 
The Chicago Bulls fanbase is itching to see their team at almost full strength and getting closer to it couldn't come at a better time than against a formidable Cleveland Cavaliers team.