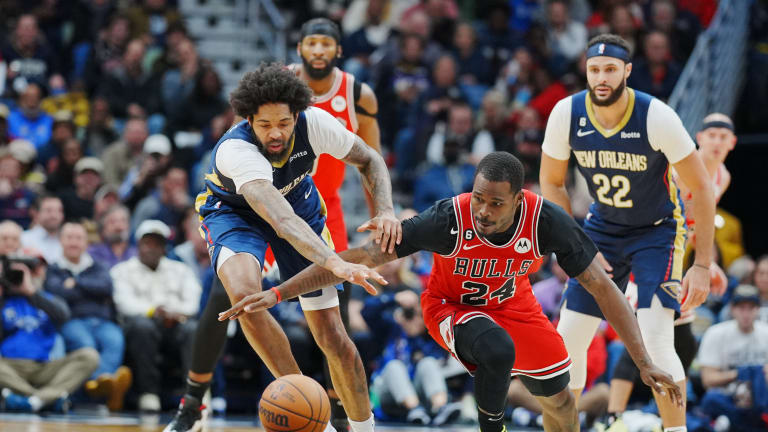 Bulls Losing Streak Reaches 3 After 124-110 Loss to Pelicans
The Pelicans blew past the Bulls in the second half, extending Chicago's losing streak to three games.
The Chicago Bulls' woes continued Wednesday night in the Big Easy when they took on the New Orleans Pelicans. The Pelicans were riding high after defeating the Memphis Grizzlies on national television the night before. Despite playing on a back-to-back, New Orleans had no issues putting away the Bulls 124-110.
The Bulls are now on a three-game losing streak and have only won one game in their last six. Chicago kept things interesting in the first half, leading by five early in the second quarter.
The Pelicans finished the second quarter strong, going into the half with a five-point lead, and never looked back. Bulls' head coach Billy Donavan said that was the defining moment of the game.
"I thought the difference in the game was in the first half we turned it over way too much," Donavan said. "But it was still only a five-point game and that was even with their shooting. They shot it well the whole game. I think the way we started the third quarter was the disappointing part."
He said his team had no answers for the Pelicans' offense in the third when the Bulls were outscored 37-25. The Pelicans scorched the Bulls from downtown to kick off the third quarter extending their lead to 12 in less than two minutes.
New Orleans expanded on its lead in the second half, going up by 26 at one point. CJ McCollum and Jonas Valanciunas had a combined 45 points, shooting 16-29 from the field. The Pelicans shot 50.6% from the field, 51.5% from behind the arc, and 87.5% from the charity strike.
The Pelicans grabbed more rebounds, had better ball movement, and scored more points off of turnovers than the Bulls, despite having more turnovers.
The Bulls could not compete from behind the arc. Chicago shot a dismal 11-for-32 (34.4 percent) from downtown. 
Chicago had three starters end the game in double-figures. Ayo Dosunmu and Patrick Williams had nine points collectively, despite playing a combined 51 minutes. It is worth mentioning, Williams left the game after he twisted his ankle.
What's On Tap Next?
Having dropped five of their last six games, the Chicago Bulls are looking to turn things around quickly. They'll head back to the United Center on Friday to host the Orlando Magic at 7 PM CT. The game will air on NBC Sports Chicago.
Tune in to the Bulls On Tap podcast for postgame reaction and further Bulls commentary all season.