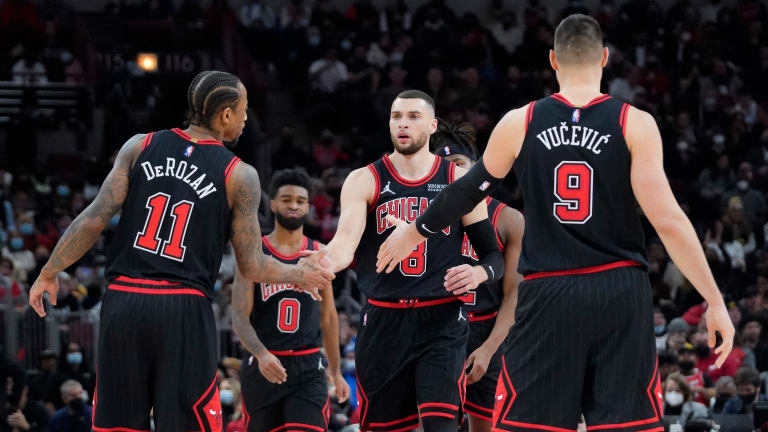 Charles Barkley Wants the Chicago Bulls to 'Blow It Up'
The NBA Hall of Famer believes the Bulls should start building for the future.
Oh, how times have changed. Last year at this time, NBA Hall of Famer Charles Barkley believed in the Chicago Bulls. Fast forward to the present and his tune has shifted drastically. Barkley appeared on ESPN 1000's Waddle and Silvy show and said the Bulls should rebuild.
"It's time to break up the Chicago Bulls. Blow it up. It's time. It's time to start the rebuild and start over," Barkley said.
He elaborated by suggesting the Bulls should trade all of their best players for draft picks because they're not close to top-tier Eastern Conference teams like the Boston Celtics and Milwaukee Bucks. Hell, Barkley even said that the Bulls weren't even better than the Cleveland Cavaliers.
The State of the Bulls
The Chicago Bulls are 10-14 on the season and hold 12th place in the Eastern Conference. They have gotten off to a slow start, but there may be an underlying reason for it. The Bulls have endured the toughest strength of schedule in the NBA so far. They've also played the most back-to-backs.
Excuses aside, this team has been underwhelming. There is no set date for Lonzo Ball's return, Zach LaVine is still working his way back to form after offseason knee surgery, Nikola Vucevic is in a contract year, and DeMar DeRozan isn't experiencing the same success he had in 2021-22. Is that a reason to blow it all up and tank? Some think so.
The Bulls will not have their own first-round draft pick in 2023 unless they land a top-four lottery selection. That pick is owed to the Orlando Magic as a result of the Vucevic trade. Those who agree with Charles Barkley's assessment suggest Chicago should tank for Victor Webanyama or Scoot Henderson. But the Bulls just emerged from a rebuild last season and it's known they want to be competitive.
Is Barkley right? Should the Bulls blow it up? Let us know over at Bulls On Tap on Twitter.