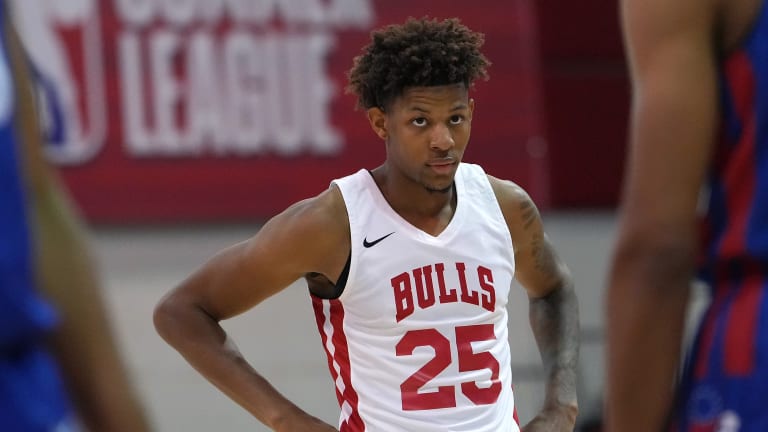 Chicago Bulls 2022-2023 Player Profile: Dalen Terry
The former Arizona Wildcat, whom the Bulls made the No. 18 pick in last June's NBA Draft, isn't likely to play a prominent role during his rookie season.
Dalen Terry has his work cut out for him.
To snare any meaningful minutes this season, he'll have to fight his way into a rotation of players who have eight All-Star, four All-NBA, and three All-Rookie designations and one championship ring between them. Assuming (er, praying) Lonzo Ball eventually gets right, of course.
But if the rousing rookie's shown anything since the Chicago Bulls drafted him in June, it's that he's going to make his presence felt. One way or the other.
After all, part of what attracted executive vice president of basketball operations Arturas Karnisovas and general manager Marc Eversley to Terry in the first place — in addition to the positional size dripping from his 6-foot-7 frame and near 7-foot-1 wingspan — was his bravado.
And it's something that grabbed Billy Donovan's attention, too.
"If you talk to anybody about Dalen the thing that comes out loud and clear is his passion and competitiveness to want to win and impact the team," the Bulls' head coach told reporters during the former Arizona Wildcat's introductory press conference.
"I think he's very eager to learn and get better and grow and improve. And as long as he keeps that mentality, then his talent level will just continue to get better."
To Donovan's point, Terry averaged 17 points on 66.6% shooting from both the field and the arc with 2.5 turnovers in his last two Summer League games. This, after his first two games yielded 11 points, 42.8% shooting from the field, 28.5% shooting from three and 6.5 turnovers. (Due to injury, he played just 10 minutes in the fifth and final game.)
That's an encouraging trend, regardless of the setting.
Still. Without much separation between him and the bottom of the Bulls' depth chart, Terry's path to the main stage is likely to include a G League pit stop or two.
Just don't tell him that.