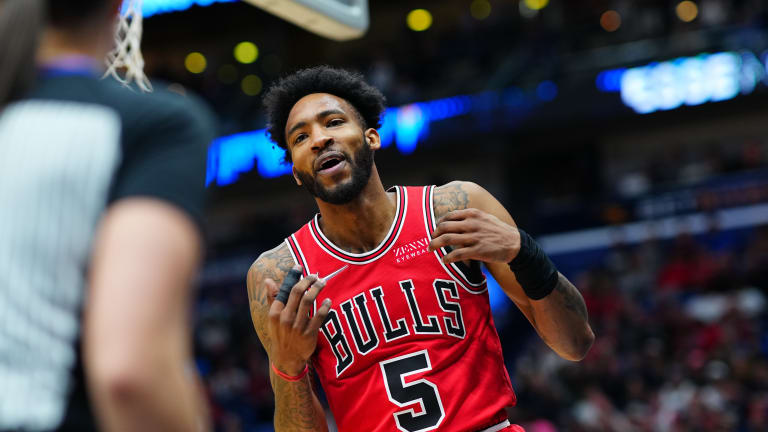 Chicago Bulls 2022-2023 Player Profile: Derrick Jones Jr.
An underrated signing in 2021, Derrick Jones Jr. is back with the Bulls, healthy, and ready to carve out a more consistent role.
Derrick Jones Jr. will not be relied on as a starter for the Chicago Bulls in the 2022-23 season. Generally speaking, Jones Jr. isn't being talked about much as we prepare for the upcoming NBA season. However, that isn't unfamiliar territory for the 6-foot-5 forward. 
The Bulls acquired the 25-year-old as part of the return package for their sign-and-trade of Lauri Markkanen to the Cleveland Cavaliers. Understandably so, Bulls fans were most excited about the draft picks that came with him. The lottery-protected first-round pick from the Portland Trail Blazers in the trade is Chicago's only real hope for a first-round selection this season.
Still, the Bulls re-signed Jones Jr. to—roughly—a two-year minimum contract (player option for the second year). While the Bulls have a logjam of guards that will likely lead to Billy Donovan playing three at a time, their forward depth is decidedly thinner. No, Jones Jr. isn't a perfect solution to the needs Chicago has, but there are plenty of ways he can still impact games this season.
Offensive Contributions
Derrick Jones Jr. is not going to suddenly be out there creating his own shot, but he knows his strengths and weaknesses and takes the right shots, even though they are few and far between. Jones. Jr.'s true shooting percentage of 63.3% last season ranked him in the 92nd percentile in the league. 
Jones Jr. works best as a slasher and complementary player, which is beneficial given the Bulls have several players (Zach LaVine, DeMar DeRozan, the ghost of Lonzo Ball) who need the ball in their hands to be most effective. It also helps that Jones Jr. can literally jump four feet in the air.
While Jones Jr. isn't the strongest player out there, he still finishes at the rim at an impressive clip. His shooting percentage between 0-3 feet was 70.1%. As a three-point shooter, Jones Jr. shot (67.2%) and made (39.0%) of his threes from the corner. He also shot a career-high 32.8% from deep this past season. However, shooting is still a limitation for him. Jones Jr. only took 1.2 threes per game and 3.8 shots per game overall.
 However, it's always nice to have a player that can do this.
Or, you know, this.
Defensive Contributions
Jones Jr. was better guarding the perimeter than the paint last season, but he was solid with both. He averaged 2.7 deflections per 36 minutes, which ranked him in the 78th percentile, and defenders shot—on average—3.6% worse at the rim when Jones Jr. was contesting the shot. That ranked him in the 66th percentile in the league. 
Jones Jr. is just a jack of all trades on the defensive end. He's one of the more versatile defenders in the league. The issue is when he is asked to match up with bigger forwards and centers. He can just get bullied in the post which keeps his role more limited.
Overall
This season, expect more of what Derrick Jones Jr. showed in 2021-22. He's going to be a glue guy who does a little bit of everything solidly while not really doing anything spectacularly. It's hard to anticipate the forward playing more than 15-17 minutes per game, so—hopefully—he can bring his athleticism, energy, and versatility in limited bursts this season.