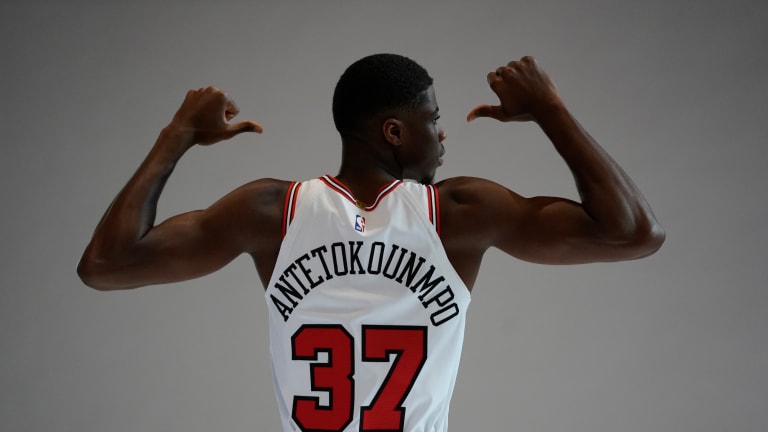 Chicago Bulls 2022-23 Player Profile: Kostas Antetokounmpo
Kostas Antetokounmpo's size and potential upside landed him a two-way contract with the Chicago Bulls. However, his impact won't be immediate as he continues to develop with the Windy City Bulls.
It finally happened: Antetokounmpo has officially signed with the Chicago Bulls. Oh wait, Kostas Antetokounmpo, the younger sibling of Milwaukee Bucks superstar Giannis Antetokounmpo, inked a two-way contract with the Chicago Bulls.
On a serious note, we did not get a chance to see much of Antetokounmpo in the four preseason games the Bulls played. Last week, he played four minutes, grabbed four boards, and scored two points in the 127-104 Bulls' victory over the Milwaukee Bucks.
Bulls fans should not expect Antetokounmpo to have an immediate impact on the team, as he will continue to display his skills and develop while playing for the Windy City Bulls in northwest suburban Hoffman Estates.
As a two-way player, Antetokounmpo can play a maximum of 50 NBA games with the Bulls.
Last year, Antetokounmpo played basketball overseas in Europe for ASVEL Lyon-Villeurbanne in France. The Milwaukee Journal Sentinel reports his team won the Pro A championship and beat Monaco in five games.
In the 47 games Antetokounmpo played in, he averaged 5.1 points and 2.4 rebounds in just over 12 minutes per game.
Before that, in the 2019-20 season, Antetokounmpo signed a two-way deal with the Los Angeles Lakers and won a championship that season.
Yes, up to this point, Antetokounmpo has not done anything statically speaking that will grab anyone's attention. However, 6-foot-10 and 200 pounds, 24-year-old has size and the potential upside that made the Bulls' front office decide to keep him around.