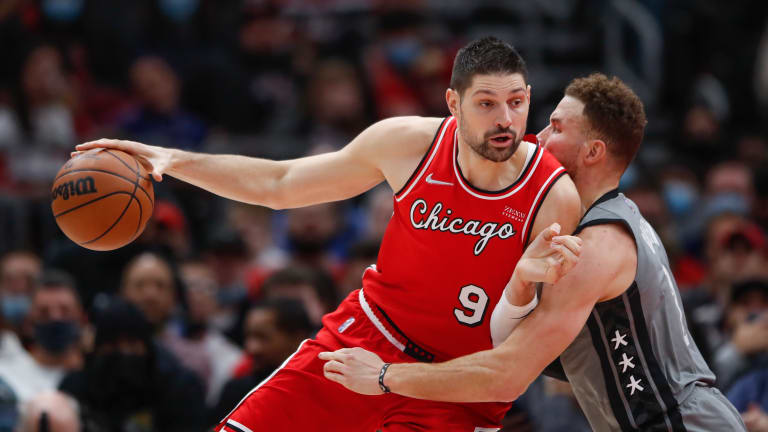 Chicago Bulls 2022-23 Player Profile: Nikola Vucevic
If the Bulls aspire to be a legitimate contender in 2022-23, Vucevic must improve from beyond the arc.
Chicago Bulls' center Nikola Vucevic will play a major role in determining the team's level of contention in 2022-23. While his 2021-22 campaign wasn't stellar, it was still a solid showing. Here is what he must do to elevate his game back to the heights of previous seasons.
Entering the upcoming campaign, Vucevic isn't considered a top 10 center in the league. During his time with the Orlando Magic, he proved that he was an All-Star-caliber player. He did so by playing effectively on and off the ball and draining shots from deep when needed.
After being the primary offensive option for the Magic, he is now the third option in the Bulls' offense. Even so, Vucevic has the potential to force his name into the "best centers in the Eastern Conference" conversation – outside of Joel Embiid, of course.
Vucevic's Offense
Last season, Nikola Vuecvic's PPG average dipped below 20. His 17.6 PPG mark represented the first time he dropped below the 20 PPG benchmark since 2019 when he averaged 19.6 PPG. Despite the dip in scoring, Vucevic was able to clean up the boards on both ends of the court. He averaged 11.0 RPG, giving him a double-double average.
The area in which he can improve the most is field goal percentage, especially from deep. Vucevic stayed on par with his averages from previous seasons by shooting 47.3%. However, the eye test raised some concerns.
Vucevic frequently saw clean looks from the elbow or in the paint but could not convert consistently. DeMar DeRozan and Zach LaVine have been drawing double teams on a regular basis, which opens up the rest of the floor. If Vucevic knocked down more of his clean looks, he could very well shoot 50% from the field.
If the Bulls aspire to be a legitimate contender in 2022-23, Vucevic must improve from beyond the arc. Last season, his three-point percentage dipped to 31% after he shot 38% or better the previous three seasons. Additionally, he struggled mightily when he was unguarded.
79.7% of Vucevic's looks from three were classified as "wide open." He only connected 32.6% of the time on those opportunities. Those misses allowed teams to leave him open and continue to double-team the better of LaVine and DeRozan. If Vucevic knocked down roughly 45% of those opportunities, the floor would open up much more for the Bulls by providing cutting lanes to the basket and open looks elsewhere.
Vucevic's Defense
It's never been a secret: the Chicago Bulls acquired Nikola Vucevic for his offensive prowess. But he is no slouch on the defensive end either, as evidenced by his 109.6 defensive rating last season. That figure was good for third-best among all NBA centers.
Vucevic was one of the only Bulls' players to offer rim protection in 2021-22. But those plays at the rim made him prone to foul trouble, which resulted in stretches on the bench. Furthermore, the foul trouble forced him to play softer in clutch time to avoid fouling out.
While it wasn't a sexy addition, the Bulls signed Andre Drummond this offseason as a frontcourt reinforcement. The 29-year-old's presence should allow Vucevic to spread his fouls out more effectively so he isn't handicapped in crunch time.
With some help down low, Vucevic should be able to continue posting respectable defensive numbers.